It appears that Colin Kaepernick will remain with the 49ers -- at least for the time being. BleacherReport.com's Jason Cole tweeted Monday that the quarterback will not take a pay cut that would have facilitated a possible trade to the Broncos, who are in the market for a quarterback after losing Peyton Manning to retirement and Brock Osweiler to the Texans. So there's "no deal," according to Cole.
But CBS Sports NFL Insider Jason La Canfora writes that this doesn't mean a possible trade is dead. "Bottom line is that this is all jockeying, and there are no real deadlines. A lot could happen this month, particularly right around the draft."
9News.com's Mike Klis confirms as much here:
Broncos trade talks regarding @Kaepernick7 still on. Just stalemated on who pays what of his $14.3M contract. #9news #9sports

— Mike Klis (@MikeKlis) April 4, 2016
Meanwhile, Colin Kaepernick was at the 49ers' facility on Monday because a) he's still a member of the team, and b) he earns a $400,000 workout bonus for perfect attendance.
Players show up to offseason workouts all the time, but Kaepernick's situation is different because the Broncos are in the market for a starting quarterback. Broncos general manager John Elway has reportedly met with Kaepernick several times in recent weeks, and Kaepernick was spotted Sunday night boarding a plane in Denver to return to San Francisco.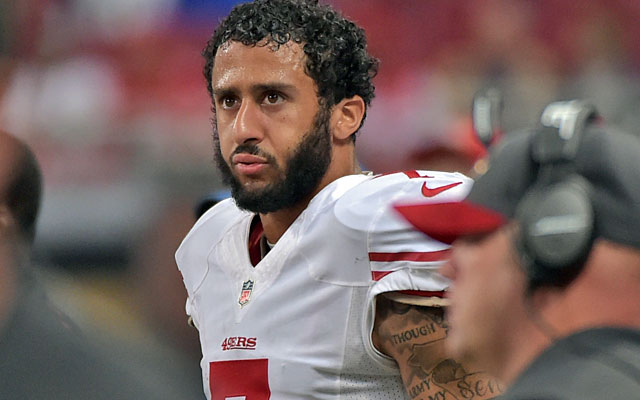 More from La Canfora: "Kaepernick reported [to the 49ers] to start earning time toward accruing his workout bonus and other than that, really nothing has changed. He doesn't want to be there, they know he's not their guy, he couldn't throw a pass at an OTA if he wanted to (and he doesn't), and the Broncos and 49ers remain in touch."
Kaepernick's $11.9 million base salary for 2016 became fully guaranteed on April 1, though as we've written previously, $11.9 million is actually slightly less than what replacement-level quarterbacks are being paid this offseason (Sam Bradford and Osweiler are averaging $18 million a season under their new deals).
Unfortunately, San Francisco wouldn't be any closer to solving its quarterback dilemma, and there's a chance the backup next season is making ... $11.9 million.
The Broncos, however, do have options beyond Kaepernick, including the last pick in the first round of this month's draft. Here are two QB possibilities, courtesy of the most recent CBSSports.com mock drafts: Paxton Lynch of Memphis and Connor Cook of Michigan State.