Report: Cowboys LB Sean Lee out 3-4 weeks with hamstring injury
Cowboys linebacker Sean Lee left Sunday night's game against the Saints with a hamstring injury in the second quarter. That injury could reportedly sideline him for up to four weeks.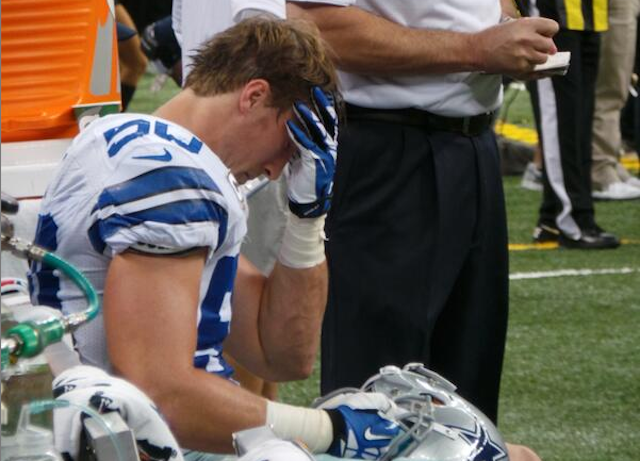 Stopping the NFL's seventh ranked offense isn't an easy thing to do, stopping the NFL's seventh-ranked offense without your best defensive player is almost impossible and the Cowboys learned that the hard way in their 49-17 loss to New Orleans on Sunday. 
Starting linebacker Sean Lee suffered a hamstring injury in the first half against the Saints, an injury that's expected to keep him sideline for 3-4 weeks, according to FoxSportSouthwest.com.
Lee injured his left hamstring on what looked like a routine tackle. On a first-and-10 play for the Saints, Drew Brees threw a short pass over the middle to Pierre Thomas. Lee went up to make the tackle on Thomas and it looked like his leg got twisted as he went to the ground.
Lee tried to walk off the field on his own, but fell to the ground before he could get to the sideline. The fourth-year linebacker ended up being taken to the Cowboys locker room with just under 14 minutes left in the second quarter. 
After the game, Cowboys owner Jerry Jones said he was 'very concerned' about Lee. 
The loss of Lee is a big one for the Dallas defense. Going into Week 10, Lee was tied for the NFL lead in both tackles (90) and interceptions (4). Without Lee, the Dallas defense ended up surrendering a franchise-record 625-yards to the Saints. New Orleans also picked up an NFL-record 40 first downs in the game. 
Whether Lee takes three or four weeks to heal, he'll most likely miss two games either way. The Cowboys have a Week 11 bye before playing two games in four days because of Thanksgiving. The 27-year-old linebacker signed a six-year extension with the Cowboys in August.  
No one was hurt, but Fournette's Mercedes lost a bumper

It might be time to begin worrying about the Patriots quarterback

The Patriots are still odds-on favorites, but the other teams are closing in
SportsLine tapped into its Vegas sources to see who professional bettors like Sunday

Philadelphia readies itself for a massive celebration if the Eagles advance to the Super B...

Guess who's back, back again, Texans' Watt took important step in returning to field