Report: Daniel Snyder to meet with Roger Goodell about Redskins name
Washington Redskins owner Daniel Snyder will reportedly meet with Roger Goodell this week to let Goodell know how the team plans to address the issue regarding the Redskins name.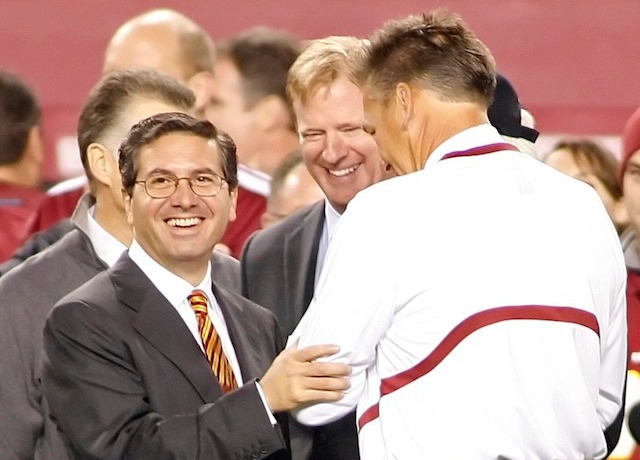 The NFL is scheduled to meet with the Oneida Indian Nation on Wednesday regarding the Washington Redskins team name. However, before that meeting happens, NFL commissioner Roger Goodell will meet with Redskins owner Daniel Snyder in New York, according to the Washington Post. 
According to the Post, Snyder hasn't changed his stance on the team's name -- and his stance is to not change it -- but Snyder will meet with Goodell so that Goodell can "get more of an understanding from the club as to how it plans to address the issue." 
Snyder wrote an open letter to fans in early October citing reasons why he wouldn't be changing the name. In the letter, Snyder mentioned the franchise's great history, tradition and legacy.
The Oneida Indian Nation have spearheaded the effort to get the name changed. The Oneida have bought radio ads denouncing the name and even held a protest before the Redskins played in Green Bay in September. 
The Oneida have been vocal enough that the NFL agreed to meet with them in New York in November. Snyder's actually been invited to attend that meeting, but he's unlikely to be there. The Oneida commissioned a poll in mid-October and 77 percent of respondents said they believed Snyder should attend. Instead, it looks like Snyder will have the aforementioned meeting with Goodell next week. 
President Obama and NFL commissioner Roger Goodell both seem open to a name change, but Goodell did say in September that the decision is ultimately Snyder's to make.
Peters was quickly ruled out by the Eagles with a knee injury

Wentz rebounded from an awful interception with a 64-yard touchdown pass against the Redsk...

Cousins did not want to miss a meeting or his wife delivering their child, so he found a way...
Brock Osweiler is the Broncos' backup quarterback

A decision is expected to come down on Tuesday

Nick Kostos, a.k.a. 'Mr. Monday Night,' has a bold pick for Monday Night Football