Report: Daniel Snyder won't influence Shanahan decision on QBs
Though he owns the team, a source tells the Washington Post that Daniel Snyder won't meddle in Mike Shanahan's quarterback decision.
• 1 min read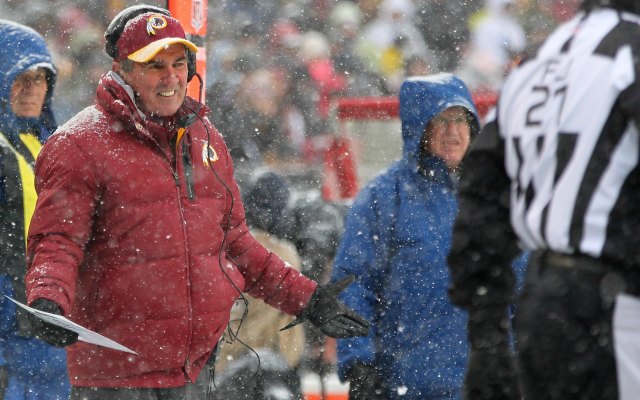 Mike Shanahan on Monday said that he hadn't decided who would start at quarterback for the Redskins this week, but if he decided to go with backup Kirk Cousins, Shanahan made it clear that he would shut down Robert Griffin III for the rest of the season in order to preserve his health.
Whether the decision truly is what's best for Griffin or if it's one last power play move by Shanahan against owner Daniel Snyder is unclear. But according to the Washington Post, Snyder isn't going to try to influence the decision.
"He won't step in and interfere with that," an anonymous source told the paper. "He's not going to step into a personnel decision that way."
It's also unclear at this point if Shanahan will be coaching the team by Sunday. As of 2:45 p.m. ET on Tuesday, Shanahan still has a job, and as the week progresses, you have to believe it is likely that Shanahan will survive this week.
But if not, there's one piece of good news for Shanahan if Snyder fires him: he reportedly already has experience at cleaning out his office.
Follow Josh Katzowitz on Google+
Log in to watch the Broncos face the Bills and stick around for some Star Trek on CBS All...

CBS All Access allows viewers to stream every NFL on CBS game in their local market

CBS All Access allows viewers to stream every NFL on CBS game in their local market
The Ravens and Jaguars head across to pond to play an early-morning game in Wembley Stadiu...

Everything you need to know for Week 3 of the 2017 NFL season is here

The Lions coach got a new contract in the spring, but didn't tell anyone