Report: Darren Sharper investigated for sexual battery in Miami
Darren Sharper is reportedly being investigated for a possible sexual assault in Miami Beach.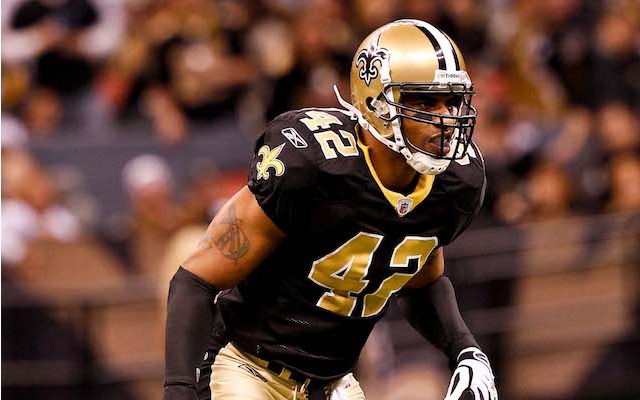 Former NFL safety Darren Sharper has already been accused of raping seven women in four states and now he's being investigated for a sexual assault in a fifth state. A police report was filed in Miami Beach last month that led authorities to open a sexual battery investigation against Sharper, according to NBCMiami.com. 
Miami Beach police confirmed to the New Orleans Times-Picayune that Sharper is currently under investigation. Authorities wouldn't discuss the case though because it's an ongoing investigation.  
However, details of another Miami Beach case that took place in March 2011 were uncovered by TMZ. According to a police report obtained by TMZ, two women from Georgia were on spring break in Miami Beach when they met Sharper. 
From TMZ:
One of the women claims she fell asleep on Sharper's couch -- and woke up around 6 a.m. with either Darren or his brother "exposing his penis and attempting to bring it close to her face."

The woman says she told the man to leave her alone, but fell back asleep.

When she woke up again, she claims either Sharper or his brother was trying to lift her dress, but she slapped his hand away. 

Eventually, the women got up to leave the condo and noticed that their panties were "missing." They later found the underwear laying on the floor by the couch. 

Both women went to a nearby rape center, but doctors found no evidence of sexual battery. 
Neither Sharper nor his brother were charged in the 2011 case. However, Sharper has been charged in his most recent cases. The Los Angeles County district charged the five-time Pro Bowler on Feb. 14 with with drugging and raping two women.
Sharper was also charged with four counts of furnishing a controlled substance and one count of possession of a controlled substance. Sharper, who spent 14 seasons in the NFL, is currently free on $200,000 bail although prosecutors reportedly will try to raise that to $10 million because he's also the focus of other rape investigations in New Orleans, Arizona and Nevada.
Larry Hartstein has his finger on the pulse of the Bears and has a strong pick for Bears-Lions...

The Pittsburgh linebacker was placed on injured reserve Tuesday

Steelers coach Mike Tomlin wanted the Patriots and now he's got them
Brady has been reluctant to speak about his friendship with the president since the electi...

The Chargers, after starting 0-4, can take first in the AFC West with a win Sunday

The Fins wide receiver took a shot at the Pats with his touchdown celebration