Report: DeAngelo Hall fined $20,000 for horse-collar, will appeal
For his horse-collar tackle on DeSean Jackson, the league has fined Redskins cornerback DeAngelo Hall $20,000. He has appealed it.
• 1 min read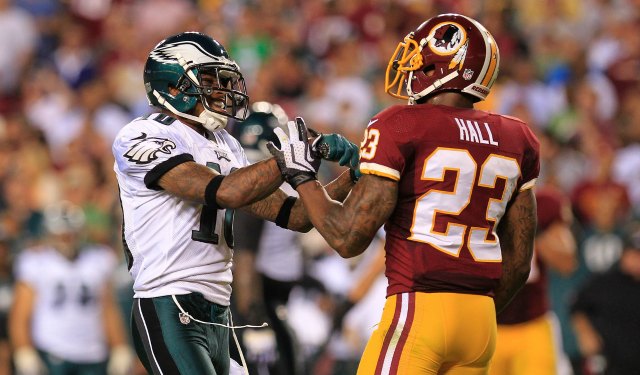 Redskins cornerback DeAngelo Hall and Eagles receiver DeSean Jackson continuously talked trash with each other Monday night when the Philadelphia knocked off Washington, and Hall made yet another high-impact play when he returned a fumble for a 75-yard score early in the first quarter.
But he also did this to Jackson …




And with that blatant horse-collar tackle, the NFL has fined Hall $20,000 for the transgression. The Washington Post reports that Hall will appeal that fine.
Here's one reason why Hall might be interested in fighting the punishment.
Hall was fined a total of $65,750 last year (three different incidents).Fines are more painful this year though. He's only making $1.25M now

— Mike Jones (@MikeJonesWaPo) September 12, 2013
On the night, Hall combined for six tackles and that fumble return.
Follow Josh Katzowitz on Google+
Warren Sapp was one of several players named in a lawsuit against NFL Network

Check out the uniforms that Denver and Indianapolis will be wearing on Thursday

The Cowboys are going to need a few things to go their way to get into the postseason
Rudolph will be put under the microscope in Mobile by clubs looking for a quarterback early...

This fan is taking the Saints to court for using 'football games as a platform for protest...

Can Aaron Rodgers get the Packers to the postseason? Even if they win out, they'll need he...