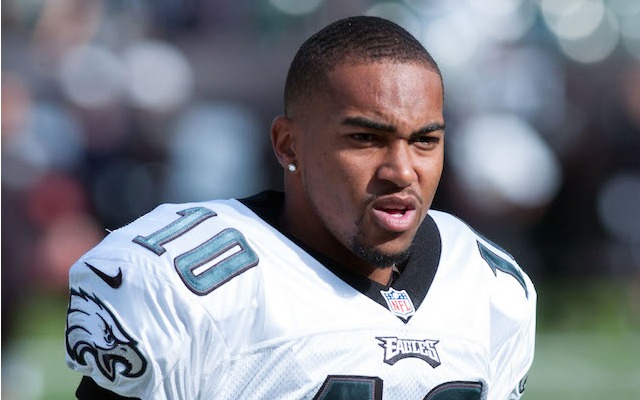 More NFL offseason: Mock Drafts | Prospect Rankings | Pro days | Top free agents
The NFLPA announced on Friday that its going to look into why the Eagles released wide receiver DeSean Jackson. Executive director DeMaurice Smith said he wants to make sure the team didn't smear Jackson's name. 
"To me, the real issue is this is the business of football. If you want to make a decision to cut a player, tell a player he's cut," Smith said. "Make a decision. But if you want to smear a player with innuendo or something that is less than proof... you know that I was very aggressive in calling a few GMs cowards for what they said about a young man coming out of college [former Missouri defensive end Michael Sam]. It seems to me that the same thing applies... if you want to smear someone and you don't have any evidence."
Smith might not like what the NFLPA finds though because according to CBS Philadelphia, the biggest loser in this investigation could end up being Jackson. 
In a report published on Friday, CBS Philly alleges that Jackson was cut because he was a problem in the locker room. The report also alleges that Jackson cussed out coach Chip Kelly on several occasions. The report quotes 'sources close to and around the team, including current and former players, as well as additional sources within the Eagles.' 
According to the report, not only did Jackson cuss out Kelly several times, but he was blatantly insubordinate and regularly threw temper tantrums. It was also alleged that other players didn't like Jackson, which could very well be true because no one came to his defense after he was released on March 28. 
A source in the report flat-out said that Jackson's release had 'nothing' to do with alleged gang-ties and that certain players, like Jeremy Maclin, would have had an issue if Jackson returned to the team in 2014.  
"The fact is, [Jackson] was a 'me-guy' with an attitude problem and [Maclin] is the complete opposite, a team guy, a great character guy you go to war with," said one source. "Funny how [Jackson] has this anti-bully thing and he thought he could push [Kelly] around; he found out otherwise. His being cut had nothing to do with the gang stuff. The team knew it. Everyone knew he had 'ties.' Those were his guys. That's okay. What put him out was his selfishness. He can try and spin it all he wants how he's 'a team player.' He's not. I'll put it this way, when it came out [March 28] that [Jackson] was released, more than a few guys were happy it happened. They said 'good riddance.' He had no real connection with anyone.
One of those players who seemed to be alright with Philadelphia dumping Jackson was offensive lineman Jason Kelce. 
We just made an extremely unpopular decision, but I couldn't be more excited and happy with where this organization is going!! #FlyEaglesFly

— Jason Kelce (@Jkelce) March 28, 2014
The CBS Philly report also touched on why the Eagles haven't made a public comment on why Jackson was released. 
"That's [Kelly's] way," said one source. "It pisses me off that [Kelly] comes off looking like the bad guy here. It wasn't just [Kelly] that wanted him gone. [Kelly] got a lot of feedback from guys that felt we were better off without [Jackson], too. [Kelly] is very much a player's coach. His office is open to anyone. Now [Jackson] is the Redskins' problem. We have something good going here and it's going to get better without [Jackson]. He had to go."
Could this be a case of someone in the Eagles organization trying to make Jackson look bad? That's definitely possible. But two things here are definitely true: Kelly hates explaining football-related decision to anyone, he's been that way since Oregon.
The other fact seems to be that a lot Eagles players didn't get along with Jackson. After Riley Cooper used a racial slur at a country concert last summer, some of his teammates came out and publicly forgave him. However, as noted above, that hasn't happened with Jackson. The new Redskins receiver has gotten zero public support from anyone in the Philadelphia locker room.