Report: Dolphins C Mike Pouncey could miss first seven games
The Dolphins could be without starting center Mike Pouncey until the end of October.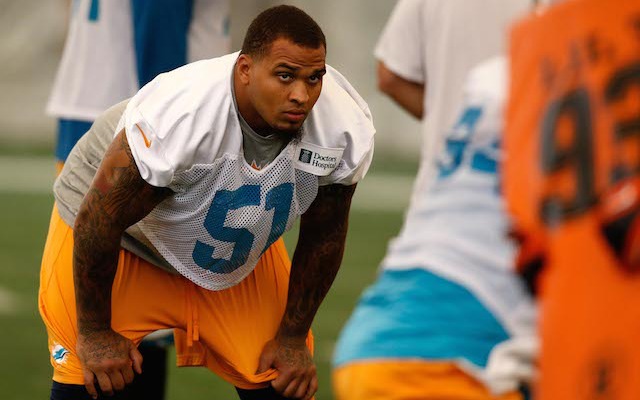 More NFL: Photos |   Videos & GIFs |  Stories | Training Camps | Johnny Manziel watch 
After Mike Pouncey underwent hip surgery on June 23, the Dolphins were hopeful that their starting center would only be out for about three months. Those hopes are starting to slowly fade away though. 
According to the Miami Herald, there's concern that Pouncey's surgery could cause him to miss a total of four months, meaning he'd make his return in late October instead of late September. 
If Pouncey returns in late October, he could conceivably miss up to seven games and that's what the Dolphins are bracing for right now. "Eight weeks are probably what we're looking at," a source told the Herald. 
Those eight weeks only make up seven games though because the Dolphins have a bye in Week 5. 
Although it's unclear when exactly Pouncey will return, one thing is for sure: He won't be playing for the Dolphins in Week 1. With Pouncey out for the opener, that means Miami will open the 2014 season with five different starters on the offensive line compared to what the team had in 2013. 
Last year's starters were Jonathan Martin at left tackle, Richie Incognito at left guard, Pouncey, John Jerry at right tackle and Tyson Clabo at right guard. This year's starters will likely be Branden Albert, Dallas Thomas, Sam Brenner, Shelley Smith and 2014 first-round pick Ja'Wuan James. 
The former Buccaneers kicker did not have things start well for him in Chicago

Bears special teams showed up in a big way against Arizona

Beast Mode got loose with Oakland and looked pretty impressive in the early going
Beast Mode was one of several players to sit during the Raiders-Rams game

The cleaning staff in Houston missed a couple of things while cleaning up after Super Bowl...

Marvin Jones had some serious fun in the end zone after scoring against the Jets