Report: Dolphins coaches asked Incognito to toughen Martin up
The Dolphins coaching staff reportedly asked Richie Incognito to toughen up Jonathan Martin after Martin missed a voluntary workout in the spring.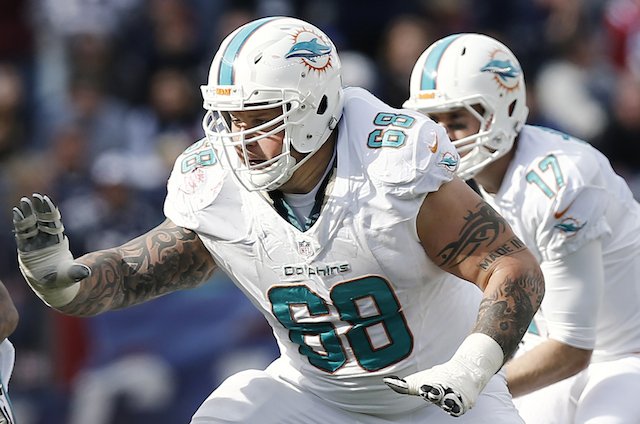 The Dolphins coaching staff didn't tell Richie Incognito to bully Jonathan Martin, but they did ask Incognito to toughen Martin up, according to a report from the South Florida Sun-Sentinel.
After Martin missed a voluntary workout last spring, the Dolphins coaching staff approached Incognito and asked him to 'toughen up' Martin, according to the report. There were no specific members of the Miami coaching staff named in the report. 
According to the Sun-Sentinel, Incognito may have taken the orders too far. Incognito has been accused of texting racial slurs to Martin, threatening to harm Martin's family members and saying he would defecate in Martin's mouth. 
Philbin and his staff will obviously be in hot water if the NFL's investigation turns up any evidence that suggests the Dolphins coaching staff has anything to do with Incognito's bullying. 
In a press conference on Monday, Philbin said that anything that happens under his watch is his responsibility. 
"I want you to know as the head coach of the Miami Dolphins I am in charge of the workplace atmosphere," Philbin said. "Since April 10, 2012 when the players first came here and I was the head coach, every decision I've made and everything we've done to the facility has been done with one thing in mind, and that is to help our players and our organization reach their full potential. Any type of conduct, behavior that detracts from that behavior is not acceptable and is not tolerated."
Incognito is currently on indefinite suspension from the team. Martin is currently in Los Angeles receiving counseling and there's no timetable on when or if Martin will return to the Dolphins.
The Vikings, led by Case Keenum, are one of the NFL's best teams

The Vikings' pass rusher revealed the latest addition to the family after sacking Matthew...

It's time to hook up that jersey of your favorite NBA player with some Black Friday deals
A Dallas Cowboys Salute to Service thermal pullover makes for the best early Black Friday...

It's time to hook up that jersey shirt of your favorite NFL player with some Black Friday...

Our computer model simulated every Week 12 NFL game 10,000 times with very surprising resu...