Report: Dolphins GM Jeff Ireland suggested Martin 'punch' Incognito
Dolphins general manager Jeff Ireland reportedly told Jonathan Martin's agent that Martin should respond to Richie Incognito's bullying by punching Incognito.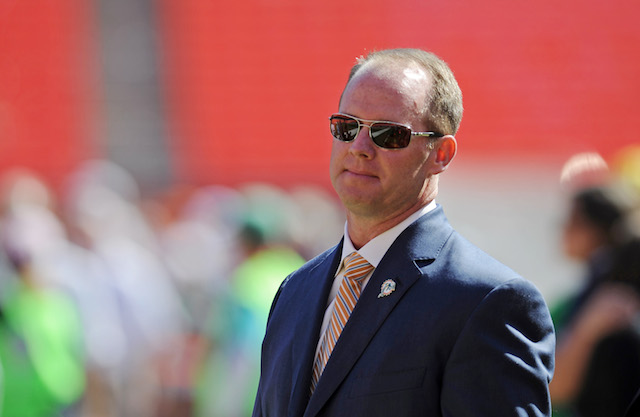 There's a new twist in the situation involving Jonathan Martin and Richie Incognito and this twist involves Dolphins general manager Jeff Ireland.
Before Martin left the team on Oct. 28, Martin's agent, Rick Smith, called Ireland and let him know about the situation involving Incognito. Ireland's solution to the bullying problem? He told Smith that Martin should 'punch' Incognito, according to ProFootballTalk.com. If true, that means Ireland basically suggested that one player on his team should assault another player on his team. 
The punch never happened though, Martin decided to leave the team instead of physically confronting Incognito. 
The idea of responding to bullying with violence isn't a new one. On Wednesday, former NFL receiver Keyshawn Johnson talked about a time when Warren Sapp was bullying a former Buccaneers teammate. The bullying in that situation didn't stop until the bullied teammate, Chidi Ahanotu, challenged Sapp to a fight. 
Ireland is the latest person to be named in a situation that seems to get more bizarre by the day. On Tuesday, there was a report that the Dolphins coaching staff asked Incognito to toughen up Martin and that Incognito may have taken those orders too far. 
It's hard to separate fact from fiction at this point, but the facts of the situation should eventually come out. On Wednesday, NFL commissioner Roger Goodell appointed attorney Ted Wells to lead an independent investigation to look into the matter. 
Although Goodell said he wants the investigation completed as 'promptly as possible,' he did add that he wanted Wells to be thorough and therefore wouldn't be placing a specific timetable on him.
Patriots QB's ring, given to one of his friends/family members, was auctioned off to an anonymous...

If the Redskins get petty, Cousins will try and get his vengeance through a grievance

The Dolphins also donated $100,000 to the victims' fund after the school shooting that killed...
The Cardinals GM explains his process for finding Carson Palmer's successor

Stefen Wisniewski narrowly missed out on a chance to earn $250K, but the Eagles gave it to...

Shazier heads into the Steelers' facility every day and helps with 'personnel stuff'