Report: Dolphins OL coach Jim Turner won't travel to NFL combine
Less than a week after the Ted Wells report was released, Jim Turner still has a job. But will he for much longer?
• 1 min read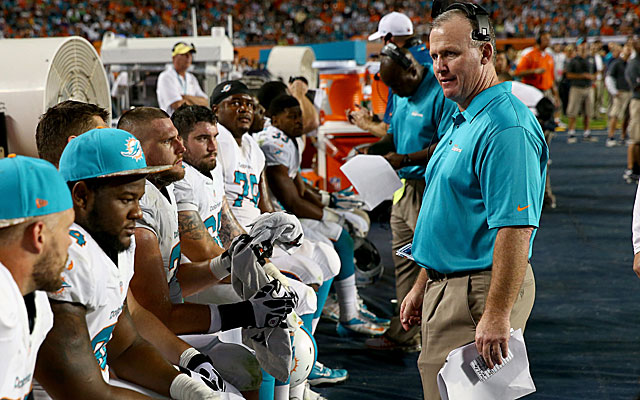 When the Ted Wells report was released last week, head coach Joe Philbin was spared much of the blame for the Richie Incognito-Jonathan Martin locker room mess. But investigators also found that Dolphins offensive line coach Ted Wells played a role as a protagonist in the hazing of one young offensive linemen.
That report was released last Friday, and as of noon Wednesday, Turner still had a job with the Miami organization.
But according to NFL.com, Turner won't be at this week's NFL combine, leading to speculation that Turner might not have his job for much longer.
From the Wells report:
Turner was aware of the running "joke" that Player A was gay, and on at least one occasion, he participated in the taunting. Around Christmas 2012, Coach Turner gave the offensive linemen gift bags that included a variety of stocking stuffers. The gifts included inflatable female dolls for all of the offensive linemen except Player A, who received a male "blow-up" doll. [Jonathan] Martin and another player reported that they were surprised Coach Turner did this; Martin further said that he was offended that Turner had endorsed the humiliating treatment of Player A by participating in it. Incognito and others agreed that this incident with Coach Turner occurred. When interviewed, Turner was asked if he gave Player A a male blow-up doll. He replied, "I can't remember."
Wells went on to write that he didn't find Turner's statement believable.
Meanwhile, Philbin has remained silent since the Wells report was released, and for now, he's not scheduled to hold a press conference at the combine. Which means newly-hired general manager Dennis Hickey likely will have to take questions about this issue when he's scheduled to speak Thursday at 2:15 p.m. ET. 
After two weeks of snoozefests, the NFL was back to being must-see TV on Sunday

Here are the Week 3 grades for every team that played on Sunday

Plus Lynch sputters, the Raiders defense falls flat and the response to Trump continues Sunday...
From Brady's perfect pass to controversy in Detroit, we have it all covered from a crazy Week...

It's been a rough Sunday night for the Raiders

From London to Sunday Night Football, teams around the league demonstrated in response to...