Report: Dolphins owner Ross to pay for $400M in stadium renovations
Miami Dolphins owner Stephen Ross is reportedly going to put up $400 million of his own money to pay for renovations at Sun Life Stadium.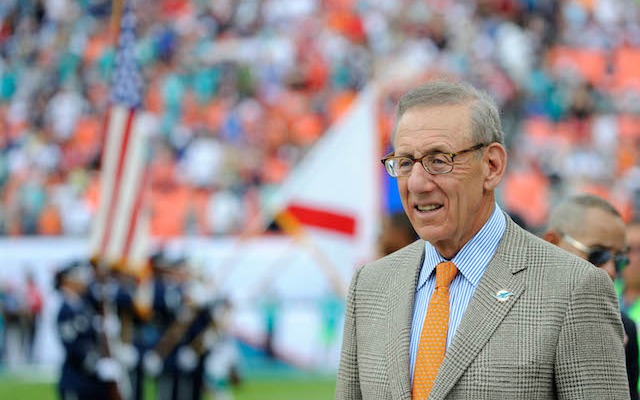 More NFL offseason: Mock Drafts | Prospect Rankings | Pro Days | Top free agents
Miami Dolphins owner Stephen Ross is about to prove that you can renovate an NFL stadium without using public money. The league's third-richest owner is set to announce that he'll be funding up to $400 million in renovations to Sun Life Stadium, according to the Associated Press.
The original renovation plan in Miami called for the public to pay for the stadium renovations, but the state legislature ended its session in May without approving the proposal. The proposed deal would have raised up to $289 million for renovations by raising the Miami-Dade hotel tax from 6 to 7 percent. The Dolphins would have also had a shot at up to $90 million in state sales tax rebates, which could have meant a total of $379 million in public funds. 
In return for paying for the renovations, Ross would like to get $4 million in annual tax relief, according to the Miami Herald. 
Ross is eager to get the renovations going because applications to host Super Bowl LIII are due in August. NFL Commissioner Roger Goodell has made it clear that Sun Life Stadium needs to be upgraded if the Dolphins want to host any future Super Bowls. 
Miami was a finalist to host Super Bowl L and LI, but the team's chance of hosting pretty much died last May when the renovation plans weren't approved. San Francisco was awarded Super Bowl L and Houston was awarded Super Bowl LI.  
Super Bowl LII hasn't been awarded yet, but the finalists to host the game are New Orleans, Indianapolis and Minneapolis. Miami hasn't hosted the NFL's biggest game since February 2010 when the Saints beat the Colts 31-17 in Super Bowl XLIV. 
Ross' hope is that renovations at Sun Life Stadium can begin after the 2014 season. 
In the past week, Marshawn Lynch and Michael Bennett have both sat during the national ant...

As expected, the internet had jokes about the Chick-fil-A at Mercedes-Benz being closed on...

Harrison is the franchise's all-time leading sacker, but J.J. Watt's brother will get the starting...
More than 17 percent of fans say they would never consider dating a Pats fan

Brady said that his lack of speed is why he fell so far in the draft in the first place

If Thomas is right, that means it's bad news for DeShone Kizer's chances of starting early