Report: Eli Manning wants to be the NFL's highest-paid quarterback
Regardless of whether or not you think Manning deserves to be the game's highest-paid player, he's got the leverage to ensure whatever contract he wants.
According to a report from NFL Network's Ian Rapaport, New York Giants quarterback Eli Manning is angling to be the highest-paid player in the NFL. Rapaport said on NFL Total Access that although the Giants hope to have a deal done before the start of the season, there remains a "significant gap" between the organization and Manning's agent.
Manning is entering the final season of a six-year, $97.5 million contract and is set to make $17 million in base salary in 2015. His $19.5 million cap hit (which includes a workout bonus and a roster bonus) is third-highest among quarterbacks behind only Drew Brees and the recently-extended Philip Rivers, according to Spotrac. The average salary of $16.25 million on his current deal, though, ranks just 17th in the NFL.
What would it take for Manning to be the NFL's highest-paid quarterback? Let's take a look at this chart that shows the top five in cumulative cash earnings remaining (i.e. not what they signed for, but how much they still have left to earn on their deals), guaranteed money (at the time the deal was signed) and average annual value.
Considering Manning is 34 years old, it does seem a bit unlikely he'll top the "value remaining" list with his next deal. Here's why: Let's say he were to sign a contract that pays $22.1 million per year, which would make him the highest-paid QB on an average annual basis. Even a five-year contract at that rate would not top Cam Newton's $118.5 million in cumulative cash earnings remaining, and that would take Manning through his age-38 season.
It's far more realistic for him to target a four-year deal (much like the extensions signed by fellow 2004 draftees Roethlisberger and Rivers) that contains a slightly higher guarantee than Rivers, effectively making Manning the highest-paid player in the game. Agent Tom Condon can favorably compare Manning to Rivers by touting the Giants signal-caller's playoff virtues, and he can push for an average annual value higher than Rodgers' by noting that the five-year, $110 million contract Rodgers signed two years ago no longer accurately reflects the quarterback market, especially when you consider that Manning would receive a $25 million(ish) salary were the Giants to use the exclusive franchise tag on him next offseason.
We could sit here and argue all day about whether or not Manning "deserves" to be the NFL's highest-paid player, but the reality is that deserve has nothing to do with it. The quarterback market is what it is, and Manning has more than enough leverage to get the contract he wants. He's already a Giants legend. He's one of only 11 quarterbacks ever to win more than one Super Bowl and one of only five players to win multiple Super Bowl MVPs. He just had his best season in at least three years. And as the last of this group of QBs still standing without a deal, he's got comparison points to work with and no reason whatsoever to sign for even a dollar less than Rivers or Roethlisberger got paid.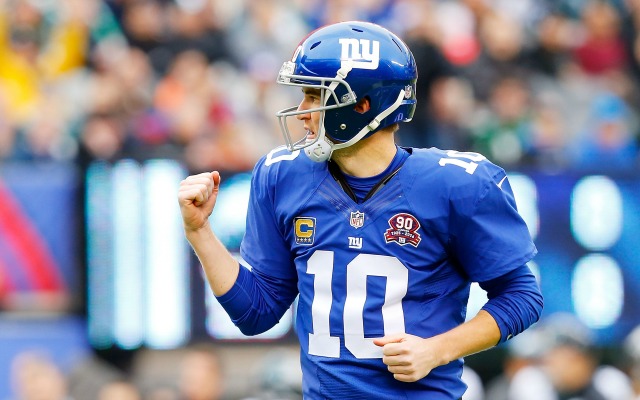 Pick Six Newsletter
Get the day's big stories + fun stuff you love like mock drafts, picks and power rankings.
Please check the opt-in box to acknowledge that you would like to subscribe.
Thanks for signing up!
Keep an eye on your inbox for the latest sports news.
Sorry!
There was an error processing your subscription.
The Cowboys coach fails in a big spot, the Jaguars are imploding and more from Week 7 in the...

The Chiefs bounce back from last week's loss while the Bengals have now dropped two in a r...

Here are the Week 7 grades for every team that played on Sunday
The Cowboys were called for a rare penalty during their loss to the Redskins.

What you need to know about the trade deadline, which could be busy based on the events of...

All of the best highlights from Week 7 are right here