Report: Ex-NFL S Darren Sharper arrested on suspicion of rape
Former NFL safety Darren Sharper was arrested on Friday in Los Angeles. Sharper has reportedly been linked to two sexual assaults since October.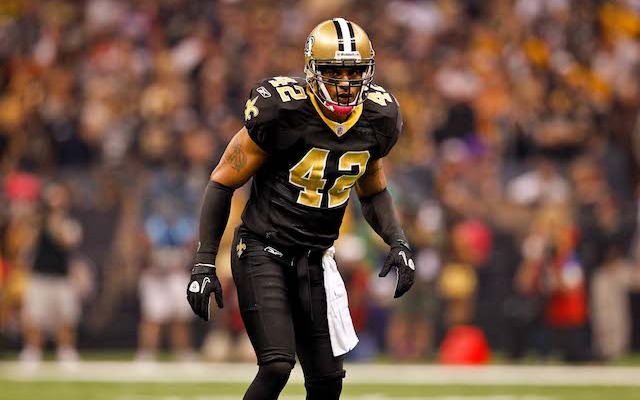 Former NFL safety Darren Sharper was arrested on Friday and charged with sexual assault, according to TMZ.com. The Los Angeles County Sheriff Department's website confirms that Sharper was taken into custody at 3 p.m. PT on Friday. The 38-year-old was released from jail on a $200,000 bond just before midnight. 
According to TMZ, Sharper has been linked to two sexual assaults over the past three months. The alleged assaults happened in October 2013 and January 2014. Sharper's first court date is scheduled for Feb. 14.
Sharper was working as an analyst for NFL Network before the arrest. 
"Darren has been suspended without pay until further notice, effective immediately," the NFL Network said in a statement to ProFootballTalk.com. "Regarding the charges, as a matter of policy, we don't comment on pending legal action."
The New Orleans Police Department is also investigating Sharper for a separate sexual assault allegation in Louisiana. 
"The NOPD is investigating an allegation of sexual assault filed against Darren Sharper," the police department said in a statement to WDSU.com. "As with every case alleging sexual assault, information gathered is extremely sensitive and the top priority of the detectives is to protect the person who filed the complaint. Because this is an ongoing criminal investigation, we cannot provide additional information at this time."
Sharper spent 14 seasons in the NFL, playing with the Packers, Vikings and Saints. The five-time Pro Bowl selection was a second-round pick of the Packers in the 1997 NFL Draft and won a Super Bowl with the Saints in 2009-10. 
Cord-cutters are probably going to like this new deal between the NFL and Verizon

Savage left the game before returning after just one series

Quinton Jefferson explains why things got ugly in Jacksonville
The Eagles lose their franchise quarterback with the playoffs just weeks away

The Packers cornerback held Gordon to one catch on Sunday

Colin Kaepernick, Josh Johnson and Matt McGloin are among the bigger names available