Report: Falcons DL Ra'Shede Hagemen fractures wrist during fight
The Falcons were hit hard by injuries during Sunday's practice.
• 1 min read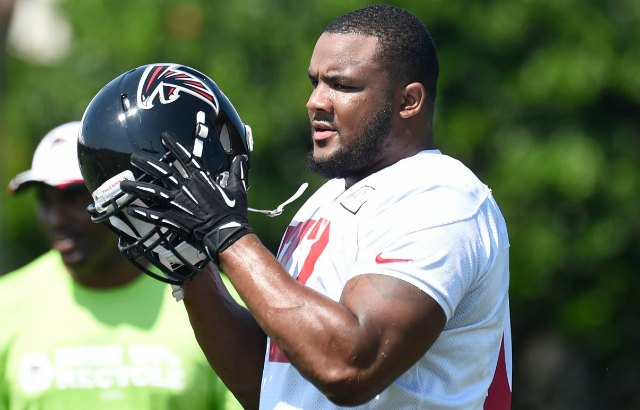 More NFL: Photos |  Videos & GIFs |  Training Camp updates | Manziel
Defensive lineman Ra'Shede Hagemen, the Falcons' second round pick, reportedly suffered a hairline fracture in his wrist Sunday while engaged in a fight at practice, according to ESPN.com.
During pass rushing drills, Hagemen apparently threw a punch at center Joe Hawley. Immediately afterward, he received medical attention.
"I think we're all talking about competing and fighting for jobs, but we're not talking about fighting each other," coach Mike Smith said. "We've got to understand that. It's not what we're about. We're about competing and going out and trying to win a job. But we're not about fighting one another. That's something that happens when it gets hot. Today, it was hot, or hotter than what we've been used to practicing. But we've got to definitely get that fixed."
So, how long could Hagemen miss?
A hairline fracture of the wrist is 4 week injury, according to medical source. But very possible to pad and play immediately, source says

— vaughn mcclure (@vxmcclure23) August 3, 2014
The Falcons on Sunday also lost second-year offensive lineman Terren Jones, who was carted off the field after suffering a reported head injury and who was taken to the hospital by ambulance.
Ken Norton Jr. didn't even last a week in San Francisco

One bettor in Vegas is going to make some serious money if the Jaguars win it all

The Jaguars, Vikings and Eagles have combined to win exactly zero Super Bowls ever
The Steelers wilted under the pressure of the postseason

The Bears fan is now officially linked up with the Packers quarterback

The Cardinals have the future in mind at quarterback with the dynamic Louisville quarterback...