Report: FB John Conner signs two-year deal with Giants
The Terminator has returned.
• 1 min read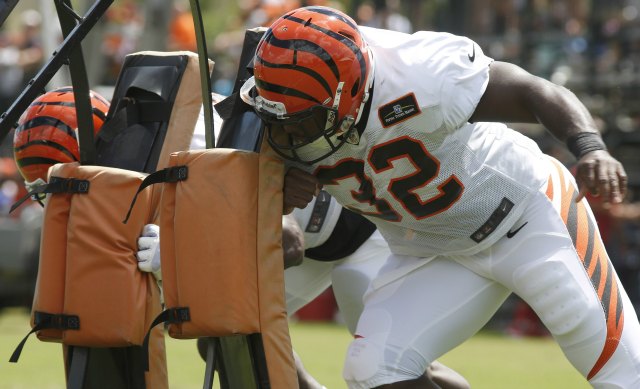 The Terminator is back in New York.
(And if that's not the most obvious lede you could think of, then I've failed you).
Fullback John Conner, who's been cut by two teams even though he seems to have impressed just about everybody in both organizations, has signed a two-year deal with the Giants, according to the National Football Post.
Conner lost the Bengals fullback job to Orson Charles this past preseason, under the watchful eyes of all the Hard Knocks cameras, and he also didn't stick long-term with the Jets in 2010 and 2011 (he actually did get eight starts in New York in 2011).
As the cameras showed, Conner -- who reportedly worked out for the Bills earlier this week -- seemed shocked that he lost the competition to Charles.
Despite all that, there were high praises from coaches Marvin Lewis and Rex Ryan.
"This is a hard one. I know you've put your heart and soul into this," Lewis told Conner on the show as the Bengals cut him. "You didn't do anything wrong. You have done everything. It's more just maybe the versatility of Orson, not necessarily what you didn't do. Orson's contribution on special teams may be more."
But the Giants found themselves in need of a fullback after Henry Hynoski suffered what's expected to be a season-ending shoulder injury, and that's apparently why Conner has a new job.
Follow Josh Katzowitz on Google+
The 49ers' last three wins have come against the Rams though they're 0-19 against everyone...

The Rams have struggled against the 49ers but that was during the Jeff Fisher era

Two weeks into the season, the Chiefs keep creating long touchdowns. Can they keep it up?
CBS All Access allows viewers to stream every NFL on CBS game in their local market

CBS All Access allows viewers to stream every NFL on CBS game in their local market

CBS All Access allows viewers to stream every NFL on CBS game in their local market