Report: Giants to avoid 'Hard Knocks'
The Giants won't be featured on Hard Knocks, the HBO football documentary series, according to a report.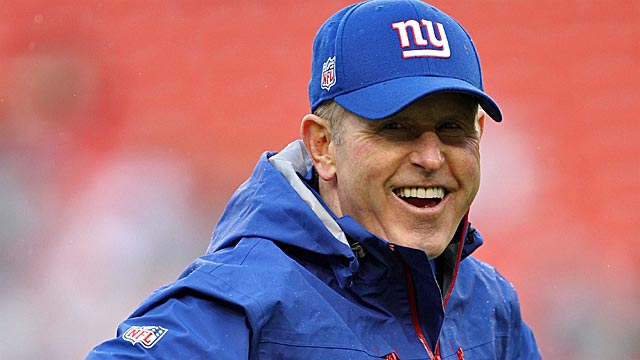 More Draft coverage: Mock Drafts | Prospect Rankings | Big Board | News
If you had your hopes set on watching coach Tom Coughlin blow a gasket in all of Hard Knocks'   voice-overed, slow-motion, cinematic beauty, we've got some bad news: The Giants won't be featured on the HBO football documentary series this summer, according to the New York Post's Bart Hubboch.
Apparently, several other teams have already volunteered, which will spare the Giants the burden of camera crews documenting their every move during the preseason. Also, Hubboch notes: The Giants, for the first time ever, are allowing cameras into their war room for the 2014 NFL Draft, which kicks off Thursday. No word on if this had any bearing on their Hard Knocks exemption status, but we can't imagine it hurt.
According to new league rules, if an NFL team hasn't appeared on Hard Knocks in the last 10 years, hasn't reached the playoffs the last two seasons, or didn't just hire a new coach, they're eligible to be on the show -- either by volunteering or mandate.
In addition to the Giants, the Steelers, Bears, Bills, Jaguars, Rams and Raiders all qualify.
Pittsburgh and Chicago seem like obvious choices, though we can't envision a scenario where either franchise would voluntarily take part. (The NFL denied a report last week that the field had been whittled down to the Giants, Steelers and Bears. Make of this what you will.)
Another team that has made it known publicly that it wants no part of Hard Knocks: Arizona.
"I don't watch reality TV," Cardinals coach Bruce Arians said earlier this week. "It does nothing for me so I don't really want to be on reality TV. I would have to change totally how I coach. It would not be acceptable to a lot of people, and I've been down the road with some people."
Either way, Hubboch writes that the league could make an announcement in June on which team draws the Hard Knocks short straw.
Bill Belichick has had enough of Mexico for now

John Elway hinted that Lynch may wind up under center for the Broncos soon

Our computer model simulated every Week 12 NFL game 10,000 times with very surprising resu...
SportsLine's red-hot NFL expert is all over the Saints and another huge NFL underdog to win...

Do you believe in miracles?

A Dallas Cowboys Salute to Service thermal pullover makes for the best early Black Friday...