Report: Greg Schiano refers to pre-Schiano Bucs as 'laughingstock'
Greg Schiano continues to make friends around and outside the Buccaneers organization.
• 1 min read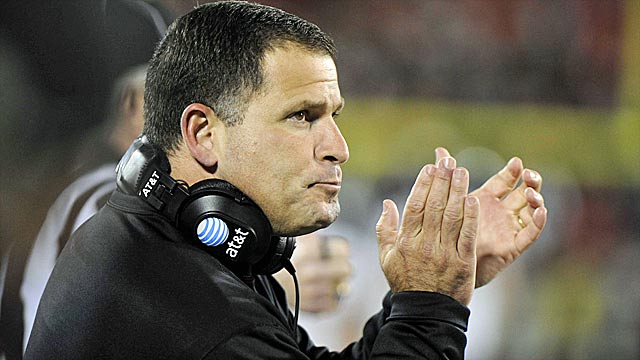 Greg Schiano, among those who ran off quarterback Josh Freeman in a display that reminded me of a coach trying to coach NFL players the same way he coached college players, continues to … well … I'm not really sure what the hell he's trying to do here.
According to the Pewter Report, Schiano told suite ticket holders on Thursday that the team was a laughingstock before he arrived and that's why he was hired.
Oh, and this.
Schiano said to season ticket holders this morning this "situation needed Greg Schiano."

— Pewter Report (@PewterReport) October 3, 2013
In case you've missed it, that's a third-person reference.
Just in case you've forgotten, the Buccaneers nearly agreed to terms with Chip Kelly to be their head coach before the now-Eagles coach rebuffed the organization and returned to coach for another year at Oregon. Yeah, Schiano wasn't the team's first choice.
And in case Schiano needs a reminder, here's his career NFL win-loss percentage.

Now, just for comparison's sake, here was the percentage of previous Buccaneers coach Raheem Morris.
So, um yeah, Morris' actually is better. Pretty funny for a laughingstock, right?
Follow Josh Katzowitz on Google+
Log in to watch the Broncos face the Bills and stick around for some Star Trek on CBS All...

CBS All Access allows viewers to stream every NFL on CBS game in their local market

CBS All Access allows viewers to stream every NFL on CBS game in their local market
The Ravens and Jaguars head across to pond to play an early-morning game in Wembley Stadiu...

Everything you need to know for Week 3 of the 2017 NFL season is here

The Lions coach got a new contract in the spring, but didn't tell anyone