Report: Jaguars DT Sen'Derrick Marks agrees to 4-year, $22 mil deal
After a career year, Jaguars defensive tackle Sen'Derrick Marks reportedly is getting richly rewarded.
• 1 min read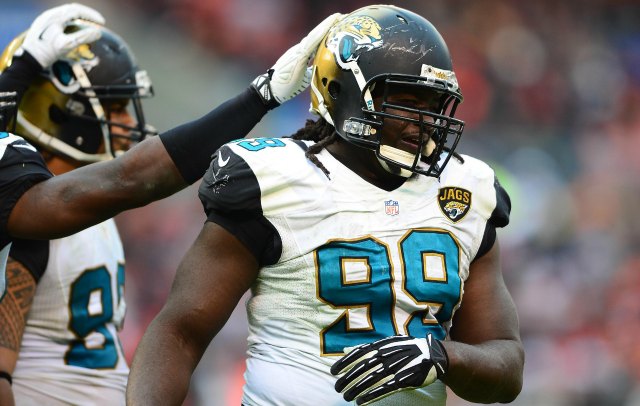 Before the season started, defensive tackle Sen'Derrick Marks signed a one-year, $1.5 million contract with the Jaguars so he could prove that he was worth a multi-year deal worth millions of a dollars.
After a 2013 campaign in which he's recorded four sacks and batted down eight passes, Marks reportedly has earned exactly that, agreeing to a four-year deal worth up to $22 million, according to NFL.com.
To compare, Marks spent the first four seasons of his career with the Titans. His combined statistics from 2009-12: eight broken-up passes, three sacks. This season, then, was a pretty good turnaround (according to measurements by Pro Football Focus, which ranks him as the 29th-best defensive tackle in the league, Marks also has accumulated 11 quarterback hits and 24 quarterback hurries this season).
"Not many three-technique guys can do the things [Marks] does," Jacksonville linebacker Paul Posluszny said last week, via the Florida Times Union. "He's very athletic, moves really well. He has that great combination in a three-technique where he can hold up against the run and rush the passer.
"He should get what he deserves [financially]. He's playing at a very high level right now. We want him here. We want him to be a piece of our defense in the future."
As for why he's gotten so much better this season, Marks said, "My improvement this year is a bit of everything. The scheme is great. The guys around me allow me to make more plays because they push the pocket and make the quarterback move. I know exactly what the coaches want done. I do what I'm supposed to do."
Follow Josh Katzowitz on Google+
The league is the brainchild of the man who directed the '30 for 30' documentary about the...

The Jaguars also let star receiver Allen Robinson walk in free agency this offseason

Grant was set to make $29 million over four years before he failed his physical in Baltimo...
James Jones, who used to play with Burnett in Green Bay, first reported the news

Siemian, after starting for Broncos, will be backing up Kirk Cousins with Minnesota

Chubb, who had 10 sacks last season, is considered the draft's best pass rusher