Report: Jameis Winston will not attend NFL Draft
He'll watch the festivities from home.
Former Florida State Seminoles quarterback Jameis Winston is widely expected to be one of the first picks off the board in this year's NFL Draft. Most mocks have the Buccaneers selecting him with the first overall pick.
But Jameis won't be on hand to find out. According to Sports Illustrated's Peter King, Winston plans to watch the draft from home rather than heading to Chicago to hear his name called and shake hands with the commissioner.
This report from King follows another from last week where he stated that Winston met with Roger Goodell in New York, where the quarterback apparently tried to make a good impression on the commish.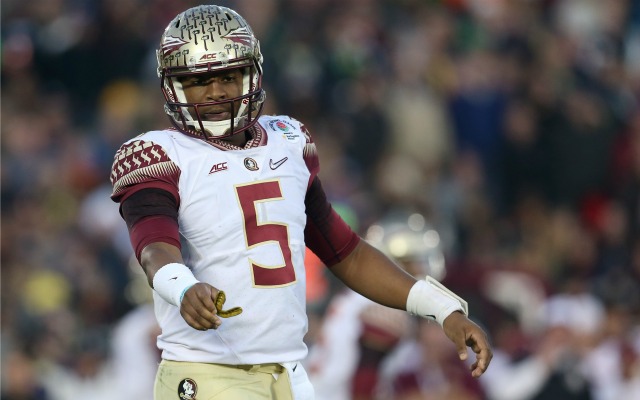 "He went out of his way to make a good impression, and to show that he understood what was going to be expected of him in the NFL," one league executive who participated in one of the series of meetings said Tuesday night.
The timing of these two reports is interesting. Last Wednesday Jameis wants to show the commissioner he understands what's going to be expected of him in the NFL, and less than a week later, he's one of the first expected top picks in years who's not going to attend the draft.
Winston, obviously, is a controversial figure thanks to well-known off-field concerns. Having a potential No. 1 pick get booed as he walks to the stage for reasons that don't have to do with football isn't the greatest look, but for now it appears that scenario will be avoided.
The Kaepernick situation is slowly turning into a black eye for the NFL

The Panthers quarterback will not play against the Titans in Week 2, but is feeling better

The Blair Walsh revenge game got out of hand
The Seahawks just took a serious hit to their offensive line

Let's call it the Blair Walsh revenge game

Jeremy Lane also stood near Bennett along with pass rushers Cliff Avril and Frank Clark