Report: Jermichael Finley released from hospital, returns home
Four days after taking a massive hit that landed him in the hospital, Packers tight end Jermichael Finley reportedly has been discharged.
• 1 min read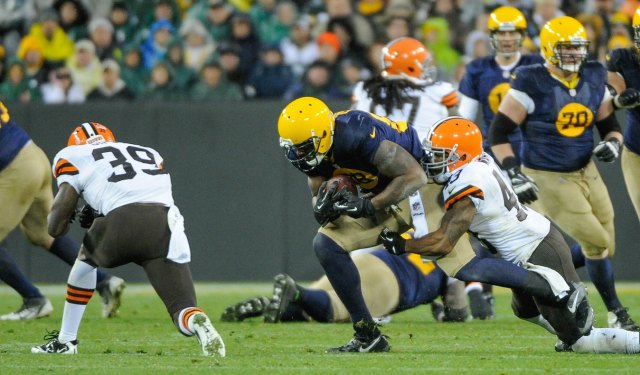 After taking a scary hit from Browns safety Tashaun Gipson on Sunday, Packers tight end Jermichael Finley landed in a hospital's ICU unit while doctors ran tests and made sure he had feeling in his extremities.
A day later, Finley was out of the Intensive Care Unit and triumphantly tweeted that he was walking to and from the shower.
In even better news Thursday, Finley -- who suffered a spinal contusion and likely will be placed on the IR list according to CBS Sports' Jason La Canfora -- has been released from the hospital and has returned home, according to ESPN's Ed Werder.
During his hospital stay, Finley was visited by a number of teammates, including fellow tight end Andrew Quarless, who said, "One of his biggest things was, 'I'm going to get back.' That's in any of us. Anytime any guys go down, I mean this is what we love to do, so that's the first thing [Finley asked], 'When am I going to get back? What's the time table,' and stuff like that. So that's a little bit of what they talked about."
As for Finley's football future, here's what La Canfora had to write about it:
There are indications that Finley will be able to play football again, however, given the small sample size available in these cases and the areas of the body involved and the brutally physical nature of this game, there is more information that must be gathered and more specialists to see as Finley continues to rest at home and determine a plan for rehab and recovery.

So while the future remains somewhat nebulous, the initial feedback from doctors has been positive. It is expected the Packers will place Finley on IR, given the magnitude of this injury and the various challenging factors at play, but at this point no decision has been finalized. But it's quite unlikely Finley returns to a field this season.
His recovery likely will be one small step at a time, and on Thursday, Finley made a big one, away from the hospital and into his home.
Follow Josh Katzowitz on Google+
Check out the uniforms that Kansas City and Oakland will be wearing on Thursday

Cliff Avril's NFL career might be over

Oct. 18 is a very special day in NFL lore
The Falcons should not be making any plans for Minnesota in February

The Colts star quarterback could end up missing the entire 2017 season

Not even two Super Bowl wins is enough to get Eli Manning any respect