Report: Jim Kelly, Bon Jovi could team up for Bills ownership attempt
According to a report Jim Kelly and Bon Jovi are in contact about possibly teaming up to buy the Bills.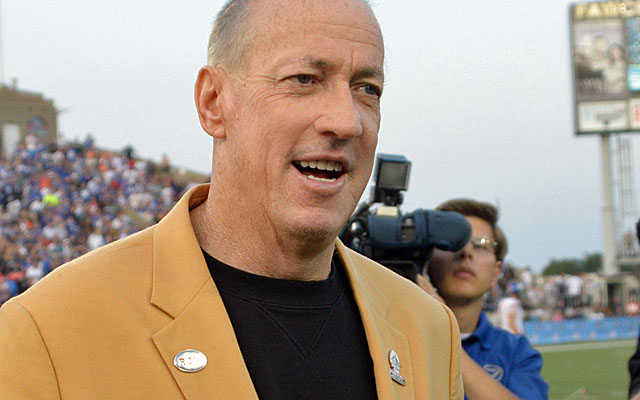 More NFL: Photos |   Videos & GIFs |  Stories | Training Camps |  Manziel watch 
No one is beloved in Buffalo -- especially now as he fights a battle against cancer -- like Jim Kelly. Jon Bon Jovi -- who wants to buy the Bills but may or may not be interested in moving them -- isn't quite as popular. But the two could soon be on the same side in pursuit of Bills ownership.
Tim Graham of the Buffalo News reports Bon Jovi "reached out" to the Hall of Famer "within the past five days" to discuss teaming up to purchase the Bills.
Bon Jovi's bid -- submitted by the rocker and his Toronto-based partners -- is in bad shape. Documents emerged last week raising red flags about the group's interest in moving the team to Toronto. 
The rocker wrote a letter to the Buffalo News trying to make it look like he'd keep the team in Buffalo, but it's unclear whether anyone is actually buying his promises. And all of this after his group was required to re-submit their bid because the initial offering was "uncompetitively low."
Kelly hasn't been able to even find a group to pair with. Kelly was initially reported as having joined a group, but that didn't happen.
Graham reports Kelly hasn't linked up with anyone because of "lofty partnership demands" from Jim and his brother Dan Kelly, including "2 percent equity in the team, lifetime jobs for Jim and Dan, an up-front cash payment for their services and final say on all football decisions."
That's asking a lot. Graham believes the Kellys would give up final football say if they could pair up with Bon Jovi's group.
Adding Kelly would be a massive boost in publicity for Bon Jovi and Rogers, mainly because of Kelly's status within the Buffalo community. It's hard to imagine Kelly being part of any ownership group that moves the Bills out of Buffalo. 
And such a notion would give a massive boost to Bon Jovi's chance at landing the Bills. Which is exactly why he's trying to make a run at Kelly, especially with what Graham reports as "major tension" within the bidding group.
Speaking of major tension ...
I'm satisfied with my report RT @erinkelly12 you should probably get all of your facts straight

— Tim Graham (@ByTimGraham) August 16, 2014
We'll assume she's not referring to something Graham said about Bon Jovi. Erin's mother and Jim's wife Jill Kelly is making things abundantly clear on her Twitter account.
Quick update on all the Jim ownership rumors. The things that you are being told by @ByTimGraham and the media are NOT ACCURATE!

— Jill Kelly (@HJKforever) August 16, 2014
To think that anyone would think for a minute that Jim would ever link up with ownership that would move our BELOVED BILLS is ludicrous

— Jill Kelly (@HJKforever) August 16, 2014
Well then.
The singer sent a message with a verse of scripture on Monday night

The Cowboys owner joined in a demonstration with the Cowboys players before Monday night's...

Look for Ezekiel Elliott and Dak Prescott to rebound after a rough outing in Denver
Quarterback Russell Wilson was one of the chief proponents for the Seahawks staying in the...

The Steelers offensive lineman was only on the field by accident during Sunday's national...

It was an emotional day in Philadelphia for the parents of kicker Jake Elliott