Report: John Fox returning to Denver, still not cleared to coach
Broncos coach John Fox is set to make the flight back to Denver this week. Fox has been at his offseason home in North Carolina rehabbing from his Nov. 4 heart surgery.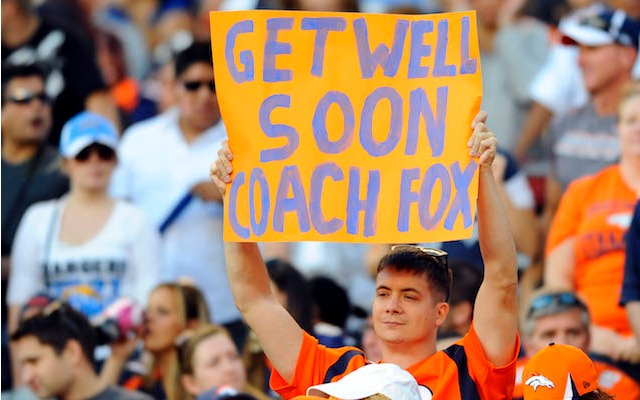 Broncos coach John Fox is finally headed back to Denver. The 58-year-old has been cleared to fly and will return to Denver on Wednesday, according to the Denver Post. Fox has been at his offseason home in North Carolina since being released from the hospital after undergoing aortic heart valve replacement surgery on Nov. 4. 
Fox and his wife Robin will fly back to Denver on a private plane provided by Broncos owner Pat Bowlen. The two have been in Charlotte, N.C., since Denver's Week 9 bye. Fox was on a golf course in Charlotte when he began to feel dizzy because his heart valve was almost completely closed. "I was receiving very little blood to my body," Fox said.
During his time in Charlotte, Fox has been walking every day and watching game film, according to the Denver Post's report. In mid-November, Fox said that his 'goal and dream' was to coach the Broncos again before the end of the regular season. Although Fox is returning to Denver, he hasn't been cleared to return to coaching yet, according to ESPN.com. 
Defensive coordinator Jack Del Rio has served as Denver's interim head coach since Week 10. In the three games since Fox underwent surgery, Del Rio and the Broncos have gone 2-1, including Sunday night's 34-31 overtime loss to New England. 
The commissioner already went to Foxboro twice this year but IT'S NOT ENOUGH

Galin Dragiev is on a piping hot run in NFL picks and just locked in a play for the AFC title...

Minnesota's fans were so impressed with the Saints punter that they are giving to his char...
Steelers and Haley part ways; keep an eye on Munchak, who canceled his forthcoming Cards i...

The Oakland Raiders coach once told Case Keenum he would get his shot

Each signal-caller can help to silence his critics during a week spent in Mobile, Alabama