Report: Johnny Manziel chooses agency to represent him
According to an ESPN report, Texas A&M star quarterback Johnny Manziel is signing with multiple agents.
• 1 min read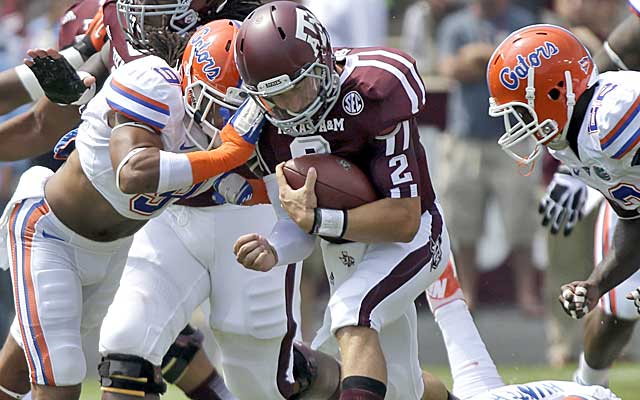 While Johnny Manziel has yet to declare for the NFL draft and instead says he still needs to talk about it with his family, the news report Tuesday from ESPN.com seems pretty clear about what Manziel's future intentions will be.
BREAKING: Johnny Manziel has chosen @SSGFootball & @mavcarter, LeBron's business partner, to rep him for contract & marketing.

— darren rovell (@darrenrovell) January 7, 2014
LeBron, of course, is LeBron James, and SSG stands for Select Sports Group -- which, according to Sports Agent Blog, had eight players it signed drafted in 2012 (that included Geno Smith, who dropped to the second round and subsequently left the agency).
Included on that list from the 2012 draft is Raiders cornerback D.J. Hayden, who was selected No. 12 overall.
Last month, Rotoworld reported that the Texas A&M star quarterback would sign with SSG, but the group denied making contact with Manziel.
That doesn't seem to matter anymore, nor does it much matter that Manziel told ESPN on Monday that "I want to make the right decision that's best for me and my family."
It sounds like the decision has been made and that Manziel is moving forward to the NFL draft. Where, according to our NFLDraftScout.com colleagues, Manziel would land either in Cleveland with the No. 4 overall pick or in Oakland at No. 5.
Follow Josh Katzowitz on Google+
Smith says the NFL's ratings decline cannot be ignored

The former Jets and Giants quarterback wants to know whether you think the Earth is round

Zach Ertz is one of the NFL's best tight ends but Philadelphia could lose his backup to free...
Second-year coach Sean McVay says his players know exactly what the expectations are

Steelers didn't trade Bryant then and they aren't looking to move him now

It had been rumored that the Jaguars might cut ties with Bortles, but instead he'll stay in...