Report: Johnny Manziel to meet with Patriots on Wednesday
Is Bill Belichick interested in Johnny Manziel? He's interested enough that he'll have a predraft meeting with Johnny Football on Wednesday.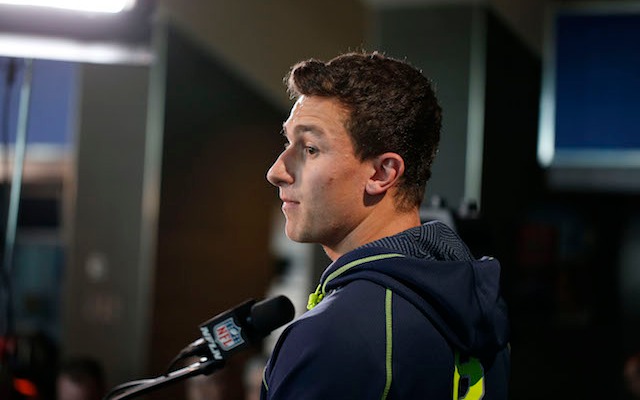 More NFL offseason: Mock Drafts | Prospect Rankings | Pro days | Top free agents
There's a 99.9 percent chance Johnny Manziel won't get drafted by the New England Patriots, but that doesn't mean Manziel can't have a predraft meeting with the Patriots -- and that's exactly what he's going to do on Wednesday, according to NFL.com. 
That's right, Johnny Football's first predraft visit will happen in New England with Bill Belichick. On the surface, the meeting doesn't make much sense -- Manziel is widely expected to go in the top-five of May's NFL Draft and the Patriots don't pick until No. 29 -- but not much ever makes sense with Belichick. Belichick has a penchant for doing whatever he wants, whenever he wants, and it usually works. 
Manziel's visit on Wednesday isn't the first time that Belichick has met with a player he's unlikely to draft. According to the Boston Herald, Belichick met with Tim Tebow in 2010. The Patriots coach also met with Dion Jordan last year, a player who ended up going third overall to the Dolphins. 
It's also possible the Belichick is actually interested in Manziel. Patriots quarterback Tom Brady will be 37 in August and presumably only has a few seasons left. It's possible the Patriots would make a move for Manziel if he were to have a Matt Barkley-like free fall in the draft. 
The former USC quarterback was projected to go in the first or second of the 2013 draft, but fell all the way to the fourth round before being selected by the Eagles. It's also possible Belichick just wants to have a friendly chat with the most famous face of the 2014 draft. 
Cowboys rookie Jourdan Lewis got some good news on Tuesday.

The Ravens might need some help at running back

The Jaguars are making people rich
It looks like Michael Vick is hoping to make the transition from player to coach

The former undrafted free agent is about to get a huge raise

Both Malik Hooker and Andrew Luck are on the PUP list, so maybe it's time to start worryin...