Report: Lavelle Hawkins signs two-year deal with Patriots
Former Titans wide receiver Lavelle Hawkins has received a second chance in the NFL, reportedly signing a two-year contract with the Patriots.
• 1 min read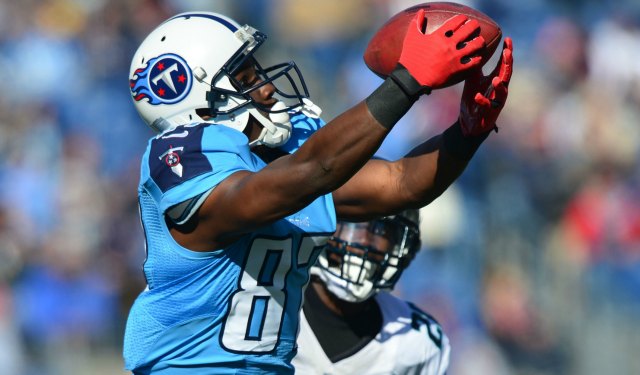 More than a year after his career season in Tennessee netted him 47 catches and a three-year, $7.2 million contract, the Titans released wide receiver Lavelle Hawkins last week. Already, though, Hawkins has found a new home, signing a two-year deal with the Patriots, according to the Tennessean.
For most of his career, Hawkins has been a backup with limited success. Aside from his 2011 performance, he's combined for 24 catches and zero touchdowns in his other four seasons. In 2012, he caught just five passes (tying his career-low) for 62 yards in seven games.
So, yeah, don't expect Hawkins to make a huge impact for New England. Particularly since the team already signed Danny Amendola, Donald Jones and Michael Jenkins off the free agent pile while drafting Aaron Dobson and Josh Boyce. (The team also employs Matthew Slater and Julian Edelman at the receiver position).
Originally, Hawkins was owed $1.9 million for the 2013 season by the Titans. Assuming he even makes the team in 2013, he'll likely get nowhere near that much money from the Patriots.
Check out the uniforms that Denver and Indianapolis will be wearing on Thursday

The Cowboys are going to need a few things to go their way to get into the postseason

Rudolph will be put under the microscope in Mobile by clubs looking for a quarterback early...
This fan is taking the Saints to court for using 'football games as a platform for protest...

Can Aaron Rodgers get the Packers to the postseason? Even if they win out, they'll need he...

The NFL is going to have to look for a new commissioner