Report: Lions keep Titus Young out of workouts after fight with teammate
Titus Young's fighting problems haven't gone away. And after punching one of his teammates last week, Young is not allowed to return to Lions practice until the team says so.
• 2 min read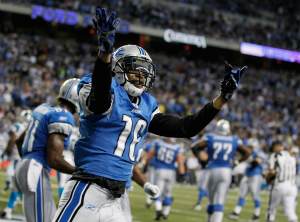 Young, once again, is in trouble with his team for fighting. (US Presswire)
When the
Lions
selected receiver
Titus Young
in the second round of the 2011 draft, character issues had followed him since college. He was suspended indefinitely at Boise State, though he rebounded to have a standout career.
Yes, he recorded 48 catches for 607 yards and six touchdowns in his rookie season, but he also made dumb personal foul penalties at inopportune times that angered his teammates and coaches.
The worst offense was when he punched a
Saints
player in the face when his team was losing by 17 points early in the second half, and on the sideline afterward, Detroit center
Dominic Raiola
eviscerated him on the sideline.
Looks like Young's temper problems haven't been solved.
According to
MLive.com's
Anwar Richardson, Young missed the beginning of Detroit's OTAs on Monday after fighting with safety
Louis Delmas
last week. Young, who apparently punched Delmas in the face when he wasn't looking, is "not allowed back at Allen Park until the team decides to have him back."
It also should be noted that Delmas
was
at practice today.
"This is the voluntary part of our offseason program," coach Jim Schwartz told reporters. "There is no need to comment. It sort of entails that it is not voluntary."
Even with the problems Young apparently still displays, there might be some hope for him. After all, he overcame a nine-game suspension placed on him by Boise State coach Chris Peterson, and he interspersed plenty of positive results with his missteps last year. In fact, Lions offensive coordinator Scott Linehan said Young was the most productive rookie receiver with whom he had ever worked.
He's not the only guy to make dumb mistakes," receiver
Nate Burleson
said
last year
. "Everybody has. I've had some penalties. But I just like the way he's embraced his position. He said, 'You know what, I'm just going to go out there and make plays.' And he has. The guy has showed up tremendously for us."
Plus, Young seemed -- the past tense to that verb being the kicker -- to have learned his lesson about fighting.
"It was something that needed to be corrected and I felt that the only way I could have corrected it was to not be put in that position again," Young said
about a month
after the Saints incident. "I've been very mindful of keeping my cool and letting it go to the next play."
For now, though, the team is telling Young not to show up at workouts, and that isn't helping either his physical development or his maturity.
For more NFL news, rumors and analysis, follow @EyeOnNFL on Twitter, and subscribe to our Pick-6 Podcast and NFL newsletter. You can follow Josh Katzowitz on Twitter here: @joshkatzowitz.
Pugh is the second interior lineman from the Giants to head to the NFC West this offseason

Keep up with the latest moves in free agency as teams try to build a Super Bowl contender

The Honey Badger, released in Arizona, is headed to Houston
Blount is coming off two consecutive Super Bowl victories and will reunite with Matt Patricia...

An avalanche of free-agent signings around the league has altered draft plans for most tea...

Jensen will reportedly make $42 million over four years