Report: Marshawn Lynch mulling retirement if no new deal
An ex-teammate says Marshawn Lynch wants a raise and he might be willing to go to drastic measures to get it.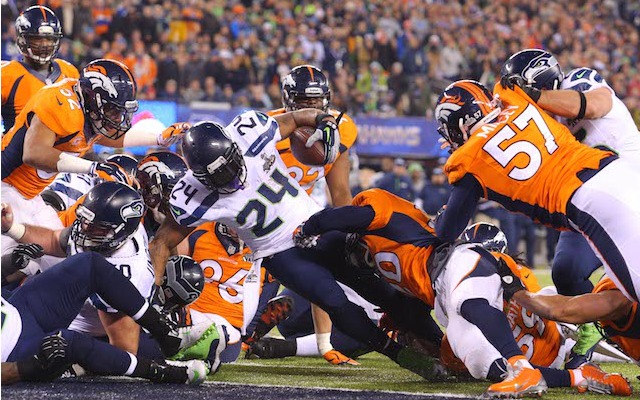 More NFL offseason: League minicamp dates | Latest news, notes
Beast Mode might be going into retirement mode if he can't get a 'small token of appreciation' from the Seahawks. According to former teammate Jordan Babineaux, Marshawn Lynch wants a raise and if he doesn't get it, he might just call it a career.
"We actually went out last week when I was in Seattle and he and I had a conversation and had a drink," Babineaux said on the NFL Network this week. "The bottom line is, it is about the money. When a guy starts producing the way Marshawn has been producing, he wants to be paid."
Lynch doesn't have much leverage at this point and the Seahawks have made no indication that they're going give him more money. Beast Mode is signed through 2015 and is scheduled to make a total of $10.5 million in base salary over the next two seasons. 
The Seahawks running back wasn't at Seattle's OTAs and no one anywhere seems to know if he'll be at the team's mandatory minicamp on June 17. According to Babineaux, retirement wouldn't be out of the question if Lynch doesn't get a raise. 
"I don't want to rule out the fact that there could still be a possibility, because of Marshawn's personality, that retirement could just be something that he's okay settling for," Babineaux said, via the Seattle Times.
A source told NFL.com this week that Lynch is genuinely contemplating retirement, "I could see him walking away," the source said. 
To add more intrigue, Richard Sherman said in February that Lynch had been telling teammates during the 2013 season that he would retire if the Seahawks won the Super Bowl. Sherman didn't believe him, but that doesn't mean it won't happen. 
Lynch is even keeping his mom out of the loop on this one. 
I won't let the media steal my joy if shawn is holding out or ready to retire, I wasn't told then again he Is grown making his own decisions

— Delisa Lynch (@MommaLynch24) June 13, 2014
For what it's worth though, Babineaux doesn't think Lynch will retire. 
"I don't see Marshawn walking away just yet," Babineaux said. "He's working on his training. He's doing the normal things that he always does."
Those normal things including lifting weights and Lynch's camp sent out a tweet this week just to reassure everyone in Seattle that Lynch is staying in shape. 
@MoneyLynch preparing for the upcoming season!!!! #BeastMode @Seahawks pic.twitter.com/zHrpZAji1w

— Eugene Smith (@edsmith84) June 13, 2014
The Oklahoma quarterback isn't exactly being discreet about where he wants to begin his NFL...

No one was hurt, but Fournette's Mercedes lost a bumper

It might be time to begin worrying about the Patriots quarterback
The Patriots are still odds-on favorites, but the other teams are closing in

SportsLine tapped into its Vegas sources to see who professional bettors like Sunday

Philadelphia readies itself for a massive celebration if the Eagles advance to the Super B...