Report: Marshawn Lynch was irate, 'went off' after Percy Harvin trade
Marshawn Lynch was so unhappy with the Percy Harvin trade that he almost didn't board the team bus to the airport on Friday.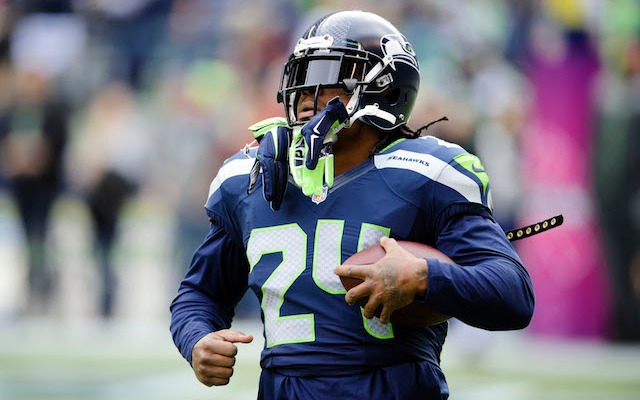 There were a lot in Seattle who weren't getting along with Percy Harvin before he was traded on Friday, but at least one player was getting along with Harvin and that player wasn't happy when the Seahawks sent Harvin to New York on Friday. 
The player in question? Marshawn Lynch. 
According to the New York Daily News, Lynch 'went off' after hearing of the trade on Friday. The trade went down just before the Seahawks were headed for the airport and Lynch was so upset, he almost didn't get on the team bus that was taking the team to the airport. 
The Seahawks flew to St. Louis on Friday for Sunday's 1 p.m. ET game against the Rams. 
Going off on his team wasn't Lynch's only reaction to the trade. The Seahawks running back also took to Twitter on Friday to express his displeasure. The tweet, which you can see here, got retweeted over 21,000 times over the weekend.
Clearly, Lynch was one of of the few players who got along with Harvin. CBS Sports NFL Insider Jason La Canfora reported on Sunday that Harvin wasn't clicking with quarterback Russell Wilson, which is a surprise, but only because Wilson seems like a guy who can click with anyone. 
Former Seahawks fullback also confirmed that Harvin gave Golden Tate a black eye the night before Super Bowl XLVIII. 
Even if Lynch is slightly unhappy with the move, the Harvin trade seems like a textbook case of addition by subtraction for the Seahawks. 
All of the best highlights from Week 15 are right here

The Colts quarterback may have to deal with more issues if he suffers a setback

Will the Bengals be able to land a big fish? Let's take at look at seven potential candidates...
One of Tom Brady's favorite targets will be sidelined with a shoulder injury vs. the Steel...

Emory Hunt has his finger on the pulse of the Boys and locked in a strong pick for 'Sunday...

Carolina will not be allowed to conduct an internal investigation