Report: Maurkice Pouncey, but not Mike, to be charged with battery
After a nightclub brawl last month, Steelers center Maurkice reportedly is set to be charged with misdemeanor battery.
• 1 min read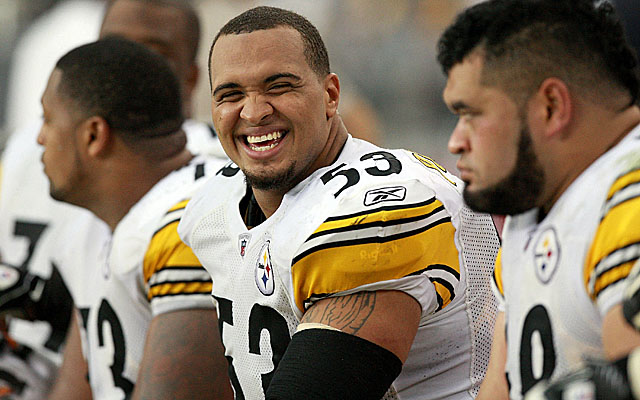 More NFL: Photos |  Videos & GIFs |  Training Camp updates | Manziel
Maurkice Pouncey and Mike Pouncey were accused last month of assaulting nightclub patrons at a nightclub during the twin brothers' annual birthday bash in Miami.
Though an attorney for the brothers denied the Pouncey's involvement, the Miami Herald's Adam Beasley reports that Maurkice, a Steelers center who signed a five-year, $44 million extension in June, is set to be charged with misdemeanor battery. This news comes courtesy of personal injury attorney Marwan Porter, who's representing three people who have made these allegations.
Mike, a Dolphins center, reportedly will not be charged.
More from Beasley:
Attorney Jeff Ostrow, who represents the Pounceys, told the Miami Herald late Thursday that, as far as he knew, an assistant state attorney had not been assigned to review the evidence.

"Until such time, no charges can be formally filed against either of my clients," Ostrow continued. "From what we've discovered, the evidence supporting the battery claims is flimsy, at best."

Ostrow pointed to inconsistencies in the accusers' claims, and added that the defense has "many witnesses who are prepared to testify under sworn oath that neither Maurkice nor Mike had anything to do with the incident. Consequently, after the state reviews all the evidence, I find it highly unlikely that formal charges will be filed against either of the Pouncey brothers."
Though the Herald reported that charges could come as early this Friday, the Miami Beach police department wouldn't confirm it.
"The final meeting with PD and state attorneys is pending," Miami Beach police spokeswoman Vivian Thayer told the paper. "And the direction of where that case goes will be decided at that time."
Last month, Ostrow also threatened to countersue, saying, "This claim is a complete sham. The plaintiffs and their lawyer are perpetuating these lies in a bid for notoriety and financial gain."
Here's an up-to-date look at the 2018 Pro Bowl roster

Bettors are favoring the Eagles to keep Super Bowl LII close, but the Patriots remain clear...

Here's everything you need to know about Super Bowl LII
Here's a look at the NFL's entire postseason schedule for 2018

Here's all the details you need to know on watching Super Bowl LII between the Patriots and...

All of the information you need to know about the 2018 Super Bowl