Report: Michael Sam to sign with Cowboys if he passes physical
The Cowboys are going to add Michael Sam to their practice squad if he passes a physical.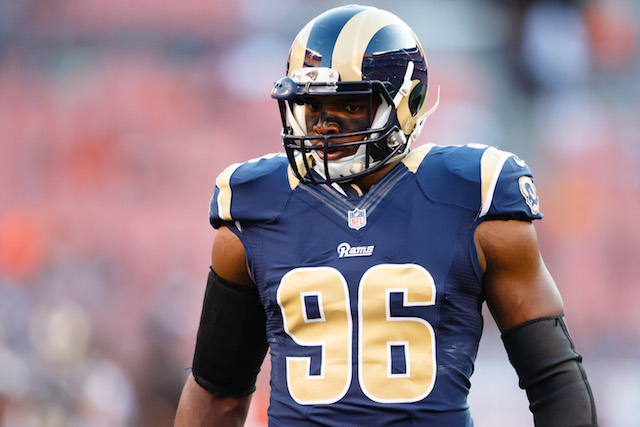 Jerry Jones didn't get Johnny Manziel, but it looks like he's going to get the only other rookie who can equal Manziel in hype: Michael Sam. According to NFL.com, the Cowboys plan on flying Sam to Dallas on Wednesday night to take a physical.
If Sam passes the physical, then the Cowboys will add him to their practice squad.  
Sam, the NFL's first openly gay player, made it to the final round of cuts in St. Louis before being released on Saturday when the Rams had to trim their roster down from 75 to 53-players.
The seventh-round pick was one of the final five cuts made by Rams coach Jeff Fisher. 
"It was a football decision and it was no different than any other decision that we make," Fisher said after cutting Sam. "It was a football decision back in May to draft Mike. And once again, it's been all about football. I will tell you this: I was pulling for Mike. I really was. I don't say that very often, but Mike came in here and did everything that we asked him to do."
After being released, Sam went through waivers unclaimed, which made him free agent.
Jerry Jones was actually asked about Sam on Tuesday morning, but he declined to speculate on if the team might add him. 
"I don't want to talk about available players," Jones told KRLD-FM, via the Dallas Morning News. "Not necessarily a player, but just available players. It's not good strategy. We've got competition out here. We've got a lot of reasons for not talking about maybes."
The Cowboys can use any depth they can get at defensive end. The team lost DeMarcus Ware to free agency and one of the players expected to replace him, DeMarcus Lawrence, was placed on short-term IR on Tuesday with a broken foot.
Breaking down why the underdogs are very dangerous against the Patriots

All of the information you need to know about the 2018 Super Bowl

Here's all the details you need to know on watching Super Bowl LII between the Patriots and...
No one wants to give the Eagles any respect

Here's a look at the NFL's entire postseason schedule for 2018

Here's everything you need to know about Super Bowl LII