Report: Michael Vick out with injury, Nick Foles could start in Week 6
Michael Vick's hamstring will reportedly keep him from starting against Tampa Bay in Week 6. Vick's injury means backup quarterback Nick Foles will make his seventh career start.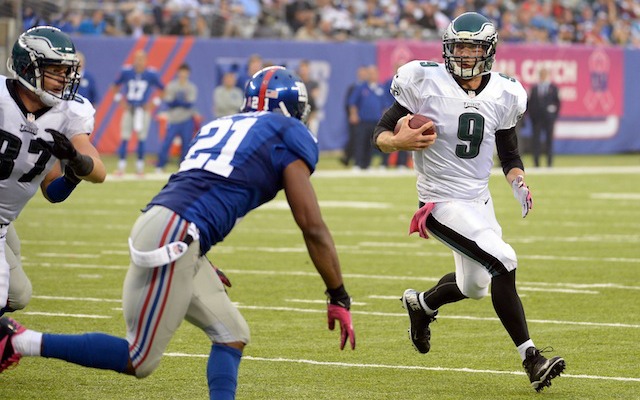 Since becoming the Eagles regular starting quarterback in 2010, Michael Vick has missed 12 games due to injury and now we might be able to add one more game to that list. A hamstring injury Vick suffered against the Giants on Sunday will keep him from starting in Week 6 against Tampa Bay, according to ESPN.com.
Eagles coach Chip Kelly wouldn't confirm that Vick would definitely be out against the Bucs. Kelly said on Monday that Vick is day-to-day and that no decision has been made yet on who the starting quarterback will be in Week 6.
Vick threw for 105 yards and ran for 79 before leaving Sunday's game against the Giants in the second quarter with Philadelphia ahead 16-7.
With Vick out, Kelly and the Eagles will turn to second-year quarterback Nick Foles. If Foles plays like he did against the Giants, Philadelphia should be in good shape. In just over two quarters of action, Foles led four scoring drives. Three of those scoring drives came in the second half after the Giants took a 21-19 lead.
Foles finished the game 16 of 25 for 197 yards and two touchdowns. Both of Foles' touchdown passes came in the fourth quarter.
This will be Foles seventh start for the Eagles since being selected in the third-round of the 2012 NFL Draft. Foles is 1-5 in his career, but all six starts came under Andy Reid and he seems to be more comfortable in Kelly's system. 
Foles won't be the only third-round starting quarterback on the field in Week 6. The Buccaneers starting quarterback will be Mike Glennon, a third-round pick in the 2013 draft. 
Larry Hartstein has his finger on the pulse of the Bears and has a strong pick for Bears-Lions...

The Pittsburgh linebacker was placed on injured reserve Tuesday

Steelers coach Mike Tomlin wanted the Patriots and now he's got them
Brady has been reluctant to speak about his friendship with the president since the electi...

The Chargers, after starting 0-4, can take first in the AFC West with a win Sunday

The Fins wide receiver took a shot at the Pats with his touchdown celebration