Report: Mike Shanahan turned down Fox NFL announcing offer
Fired Washington Redskins coach Mike Shanahan could've been in the booth announcing Redskins game in 2014, but instead, he turned down an offer from Fox.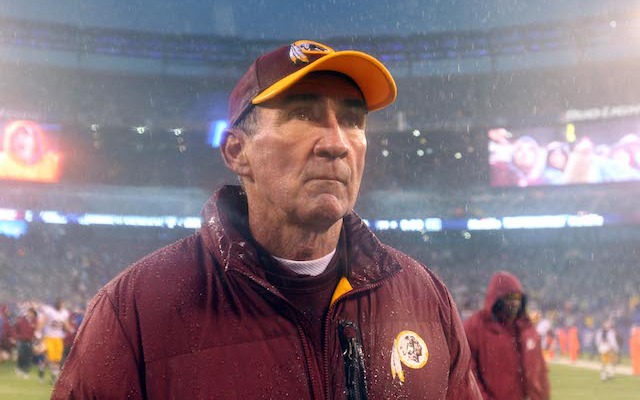 More NFL: Photos |   Videos & GIFs |  Stories | Training Camps | Johnny Manziel watch 
Mike Shanahan won't be coaching the Washington Redskins in 2014, but he could have been announcing their games. According to Fox NFL announcer Dick Stockton, Shanahan was going to be his partner this season, but then decided he didn't want the job.  
That tidbit of information comes from Grant Paulsen, a Washington DC radio host who ran into Stockton at the airport. After making some small talk with Stockton before his flight, Paulsen asked him who he was going to be paired with at Fox for the upcoming season.
Stockton told Paulsen he was "supposed to be working with Mike Shanahan, but it doesn't sound like he wants to do it anymore."
Shanahan's camp confirmed that conversations with Fox took place, but that he wouldn't be calling games this year. 
It's probably for the best that Shanahan won't be in the booth, mainly because Redskins games probably would have been awkward. As recently as December, Shanahan and Robert Griffin weren't talking to each other. 
There was also the time last season when RG3 bashed Shanahan's game-plan, saying the Eagles defense 'knew what was coming.' All of this led to Shanahan being fired by the team on Dec. 30.
So Shanahan might return to FedEx Field at some point in 2014, but it apparently won't be as a Fox announcer. 
Dak Prescott was efficient and explosive and DeMarcus Lawrence was dominant in the Cowboys...

The Dallas receiver threw up the X after his score, and he certainly deserved it

The singer sent a message with a verse of scripture on Monday night
The Cowboys owner joined in a demonstration with the Cowboys players before Monday night's...

Look for Ezekiel Elliott and Dak Prescott to rebound after a rough outing in Denver

Quarterback Russell Wilson was one of the chief proponents for the Seahawks staying in the...