Report: New NFL drug policy would reduce marijuana punishments
The NFL and NFLPA are getting closer to agreeing on a deal that would involved more lenient punishments for players who test positive for marijuana.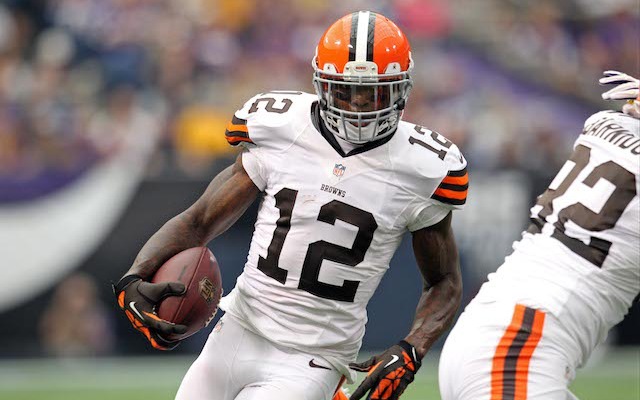 More Draft coverage: 2015 Mock Drafts | 2015 Top 100 | 2014 Draft Grades | News
The NFL's drug policy could be undergoing a change in the near future, a change that would involve more lenient punishments for players who test positive for marijuana, according to ESPN.com. 
Renegotiations in the drug policy have been going on since 2011, but the league and the NFLPA have been unable to come to an exact agreement. The changes to the pot policy would not only increase the threshold for a positive test, but it would reduce the punishments given to players who violate the marijuana policy. 
However, the ESPN report points out that these changes wouldn't help players who have already violated the policy, like Browns wide receiver Josh Gordon, 
The reason the new policy hasn't gone into effect yet is because there's still a few other hangups. One hangup is HGH testing that would come along with the new marijuana policy. 
In an e-mail to ESPN, NFL spokesman Greg Aiello had this to say about HGH testing: "It's kind of funny because since 2011 the union has come up with one excuse after another to avoid implementing an agreement to test for HGH. First, it was the testing method; then it was the population study; now it's commissioner authority. Our commitment to testing is clear. The same cannot be said of the union."
The 'commissioner authority' Aiello is referring to would give Roger Goodell the power to hand out punishments to players who violate the NFL's drug policy in a situation where the league didn't test the player.
For instance, if a player was arrested with illegal drugs, the NFLPA wants that player's case to go before an independent arbitrator. The NFL would want Goodell to hear a case of that nature.
So basically, players could see a more lenient marijuana policy in the near future, but to get it, they're going to give up some power and agree to HGH testing. 
R.J. White, who nearly won the Las Vegas SuperContest, locks in his pick for the NFC Championship...

Mike Tierney has owned NFL totals and has a strong pick for the AFC Championship Game

The Saints coach wasn't in the mood to answer questions about Drew Brees on Tuesday
This is footage that you'll definitely want to see

It wasn't the matchup that we expected, but the Jaguars would argue that's everyone else's...

The Eagles quarterback and the Vikings quarterback have paths that have crossed many times