Report: NFL admits to Lions that refs made second costly error
The NFL has admitted that officials made two critical no-calls against the Lions.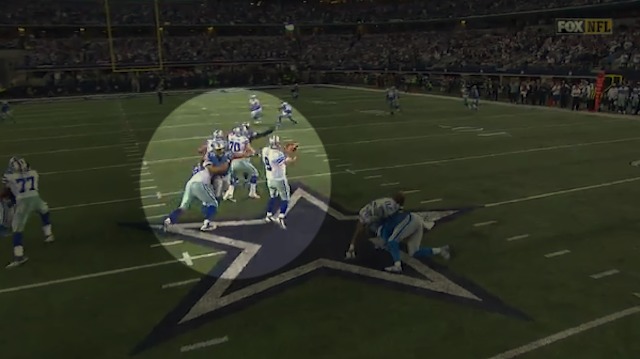 For the second time in as many days, the NFL is admitting that the officiating crew in the Cowboys-Lions game Sunday made a critical mistake on a key fourth quarter play.
According to ESPN.com, the league admitted to the Lions that Cowboys left guard Ronald Leary should have been called for holding on a critical fourth-and-6 play from the Lions 42-yard line with six minutes left in the game. 
Leary (65) hooked Lions defensive lineman Ndamukong Suh on the play. 
The Cowboys converted the fourth down when Tony Romo hit Jason Witten for a 21-yard gain. However, if the holding had been called, the Cowboys would have been facing a fourth-and-16 from their own 48-yard line. 
After converting the fourth down, the Cowboys scored the eventual game-winning touchdown eight plays later on an 8-yard pass from Romo to Terrance Williams. 
Obviously, Lions fans aren't going to be happy about this because it means the team was burned on two non-calls in during a three minute period in the fourth quarter. 
NFL vice president of officiating Dean Blandino admitted on Monday that the Lions should have been awarded a first down on a critical play in the fourth quarter. On the play, Cowboys linebacker Anthony Hitchens made contact with Lions tight end Brandon Pettigrew and was flagged for defensive pass interference. 
After a conferring with fellow officials though, referee Pete Morelli eventually waived off the flag. According to Blandino, the officiating crew should have at least called defensive holding on the play. 
Patriots QB's ring, given to one of his friends/family members, was auctioned off to an anonymous...

If the Redskins get petty, Cousins will try and get his vengeance through a grievance

The Dolphins also donated $100,000 to the victims' fund after the school shooting that killed...
The Cardinals GM explains his process for finding Carson Palmer's successor

Stefen Wisniewski narrowly missed out on a chance to earn $250K, but the Eagles gave it to...

Shazier heads into the Steelers' facility every day and helps with 'personnel stuff'