Report: NFL considering tougher penalties for domestic violence cases
NFL players involved in domestic violence cases could be looking at stricter penalties.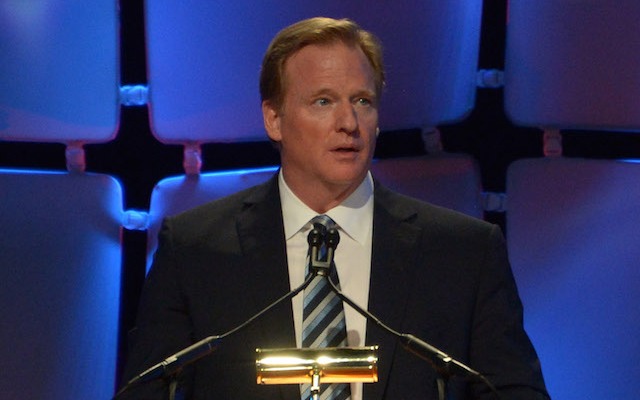 More NFL: Photos |  Videos & GIFs |  Training Camp updates | Manziel watch
Any NFL player who commits an act of domestic violence in the future could be looking at an automatic four- to six-game suspension. According to the Washington Post, the NFL is considering implementing a new policy that would dole out tougher penalties for domestic violence offenders.  
Under the potential new policy, a player would be suspended between four and six weeks for a first-time offense. If a player commits a second offense, he would be suspended for an entire year. 
The decision to strengthen the policy stems largely from the Ray Rice case. NFL commissioner Roger Goodell was lambasted by fans and media all over the country after suspending Rice only two games following an incident in February where Rice knocked his then-fiancee unconscious. 
Rice was indicted on a third-degree aggravated assault charge. However, that charge could eventually be expunged if Rice completes a court diversion program he was admitted into back in May. 
A source told the Washington Post that the Rice case was definitely a harbinger for the change that could possibly come as soon as 'the next few weeks.'
"A lot of us were disturbed by what we saw," the source said, referring to the Rice case. "I think you will see something in probably the next few weeks. A first offense could be four to six games, definitely more than two. A second offense might be a year. ... We need to have stricter penalties. I think you will see that. I believe the commissioner and others would like to see stricter penalties. We need to be more vigilant."
Goodell explained Rice's suspension while he was in Canton, Ohio, for the Hall of Fame ceremony on Aug. 1. "We have a very firm policy that domestic violence is not acceptable in the NFL," Goodell said. "I think what's important here is Ray is taking responsibility. He's been accountable for his actions."
The commissioner "tried to stick with precedent" in the Rice case, but in the end, he only ended up enraging millions of NFL fans across the country. 
Although the new policy has been discussed and is being seriously considered, there's no guarantee that it will be implemented. The NFL declined to comment to the Post on the situation.
The new Dolphins quarterback offered high praise for his receiver after his first preseason...

LeSean McCoy was probably a pretty popular person in the Bills locker room on Thursday

Kaepernick is unsigned, but he is continuing to make waves off the field
A report Friday said that Bell's agent agreed to a five-year deal right before the deadline...

Plus everything else you need to know about Week 2 of the 2017 NFL preseason

The Ravens kicker wanted to try a ridiculously long field goal against the Dolphins