Report: NFL fines Marshawn Lynch $50K for media silence
It apparently pays to talk to the media after all.
• 1 min read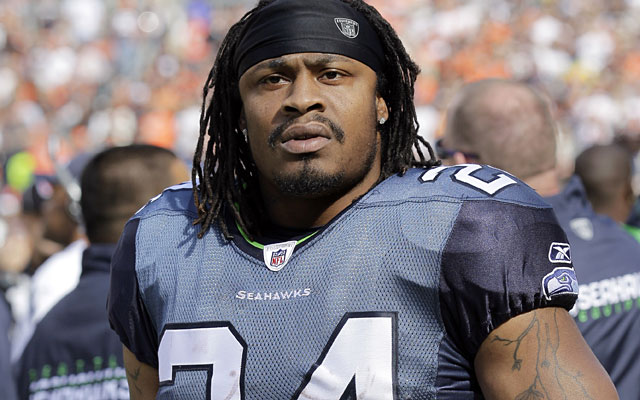 Just in case you have the idea not to talk to the media the next time a reporter politely approaches you for just a few seconds of your time, remember this: sometimes it pays to be interviewed, and sometimes it'll cost when you don't.
Like, it will literally cost you money.
That's reportedly what's happened with Seahawks running back Marshawn Lynch, who has been fined $50,000 for not talking with the media this season, according to ESPN.com.
Lynch finally spoke to reporters on Friday, but the meeting was short. The NFL requires its players to speak to the media, but Lynch made his encounter as brief as he could.
As the Seattle Times wrote, "So after the Seahawks practice Friday, Lynch quickly hopped in front of a few cameras and tape recorders and spoke for roughly 1 minute and 23 seconds. As he did, he delivered answers as straight and to the point as many of his runs, handling nine questions in 79 words."
Not prolific enough for the NFL apparently.
Follow Josh Katzowitz on Google+
Mike Tierney has owned NFL totals and has a strong play for Chargers-Chiefs on Saturday

The former No. 2 overall pick drew interest this offseason but did not play in 2017

This matchup isn't quite as glamorous as it looked when the schedule was released in the s...
Patriots-Steelers highlights a week filled with playoff-caliber games

Cleveland's quarterback has recently improved, but his turnovers have been a big part of the...

Warren Sapp was one of several players named in a lawsuit against NFL Network