Report: NFL 'strongly considering' moving Pro Bowl to Arizona
The Pro Bowl might not be played in Hawaii next season. The NFL is reportedly considering moving the game to the site of Super Bowl XLIX in Glendale, Ariz.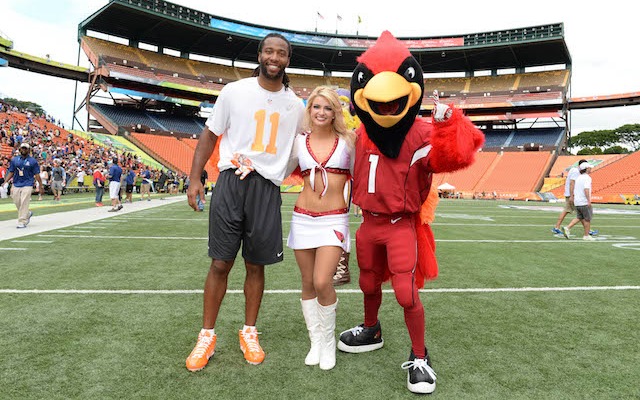 Pro Bowlers might not be getting a Hawaiian vacation at the end of the 2014 season. That's because the NFL is thinking about moving the game to the site of Super Bowl XLIX, according to the Green Bay Press-Gazette. 
Super Bowl XLIX is scheduled to be played at University of Phoenix Stadium in Glendale, Ariz., on Feb. 1, 2015. If the Pro Bowl were to move to Arizona, it would presumably be played Jan. 25, 2015 at the same location. 
The Pro Bowl has been played in Hawaii in 34 of the past 35 seasons. The only exception came in 2009 when the NFL also moved the game to the Super Bowl site. Both the Pro Bowl and Super Bowl were played in Miami following the 2009 season. That was also the season the NFL moved the game to the week before the Super Bowl. Before that, the Pro Bowl was generally played the week after the Super Bowl. 
Besides Miami and Honolulu, the Pro Bowl has also been held in Dallas, Kansas City, New Orleans, Los Angeles, Seattle and Tampa. According to the Press-Gazette, the reason behind the move is that the league wants to 'raise the revenue and the profile of the game.'
If the NFL does move the game to Arizona, the decision would probably start controversy almost immediately. The state is currently considering legislation that would allow businesses to refuse service to gay people if the refusal was based on religious beliefs. 
R.J. White, who nearly won the Las Vegas SuperContest, locks in his pick for the NFC Championship...

Mike Tierney has owned NFL totals and has a strong pick for the AFC Championship Game

The Saints coach wasn't in the mood to answer questions about Drew Brees on Tuesday
This is footage that you'll definitely want to see

It wasn't the matchup that we expected, but the Jaguars would argue that's everyone else's...

The Eagles quarterback and the Vikings quarterback have paths that have crossed many times