Report: NFL to add more flex games in 2014
Starting in 2014, the NFL will begin cross-flexing games. So a game originally scheduled to be televised on Fox could move to CBS.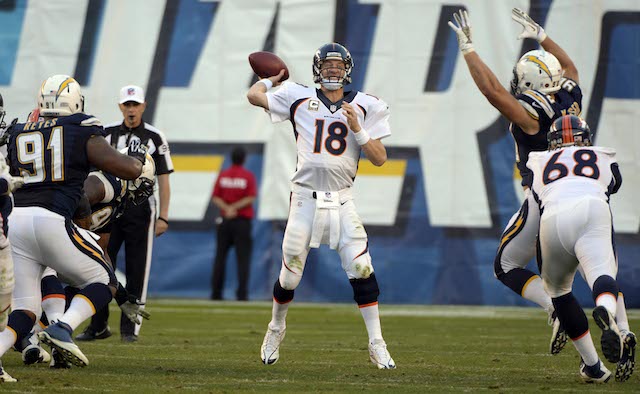 If you're a fan of flex scheduling, the NFL has some good news for you: the league plans to add more flex games in 2014, according to ESPN.com.
Starting next season, the league will be able to 'cross-flex' games, which means a game on CBS could end up on Fox or vice versa. If an attractive game is stuck in the early time slot, the NFL could simply move it. For instance, a game could be moved from the 1 p.m. regional slot on Fox to the 4:25 p.m. ET national slot on CBS so that more of the country would be able to see it.
Conference-affiliation wouldn't be taken into account, so an AFC team could be flexed to Fox or an NFC could be flexed to CBS, according to the report. 
If a network loses a game, it would get another game to replace it, but it's not clear how that will work yet because the details of the plan have yet to be finalized. 
Under current flexing rules, the NFL can move games beginning in Week 11. The league took advantage of that this week, moving the Kansas City-Denver game to primetime. 
The Chiefs and Broncos were originally supposed to kick off at 4:05 p.m. ET on CBS, but the NFL moved the game to 8:30 p.m. ET on NBC to maximize the television audience.  
The Chiefs and Broncos have also been flexed in Week 13. That game has been moved from a 1 p.m. ET kickoff on CBS to a 4:25 p.m. ET on CBS. Next season, the Chiefs-Broncos Week 13 game would be a game that could theoretically be cross-flexed to Fox if CBS had already had a high profile game scheduled for 4:25 p.m. ET. 
The former No. 2 overall pick drew interest this offseason but did not play in 2017

This matchup isn't quite as glamorous as it looked when the schedule was released in the s...

Patriots-Steelers highlights a week filled with playoff-caliber games
Cleveland's quarterback has recently improved, but his turnovers have been a big part of the...

Warren Sapp was one of several players named in a lawsuit against NFL Network

Check out the uniforms that Denver and Indianapolis will be wearing on Thursday