Report: NFL unlikely to make any changes to overtime rules
Don't look for the NFL to change its overtime rules this offseason.
After the Green Bay Packers lost in overtime to the Arizona Cardinals during the divisional round of the playoffs, Packers linebacker Clay Matthews suggested the NFL should switch to college overtime rules.
Unfortunately for Matthews, it doesn't sound like that's going to happen.
According to ProFootballTalk, the league is unlikely to change any of its overtime rules this offseason.
The NFL holds an annual league meeting every March, and that's when rule changes are generally proposed and discussed. Although the subject of overtime is expected to come up, no changes are likely.
At last year's league meeting, the Bears actually submitted a proposal that called for each team to get at least one possession in overtime, but that was overwhelmingly shot down in a 29-3 vote. Ironically enough, the Packers were one of the teams that voted against the change.
For the past two years, the Packers season has ended with an overtime loss where Aaron Rodgers didn't get to touch the ball. If the Packers don't like the OT rule, then they can make a proposal in March. At that point, they'd have to get 24 other owners to agree on it to make it a rule, and based on last year's vote, that seems highly unlikely.
As things stand, both teams will not get a possession in overtime if the team that receives the opening kickoff goes down and scores a touchdown.
Under the college overtime rules that Matthews was vouching for, each team gets a possession at the 25-yard line. If neither team scores, then a second overtime starts with each team again getting a possession at the 25. The first team to outscore the other team in any OT period wins the game.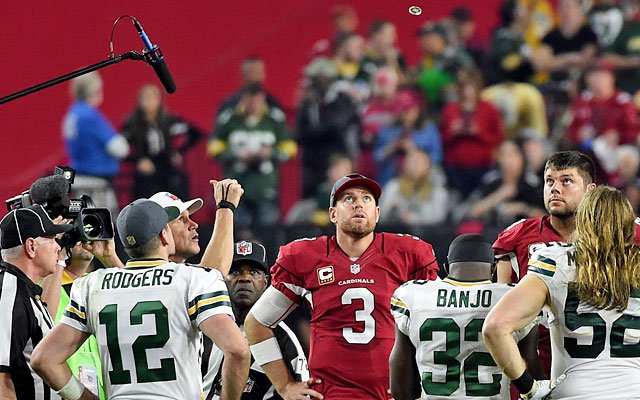 The bulletin board material is piling up for Sunday's AFC Championship game

The right tackle was behind the underdog masks and is now selling 'Home Dogs' shirts

Everything you need to know about the AFC and NFC title games
The Jaguars are poised for the biggest upset in recent playoff history

The Broncos might have tipped their hand as to which player they're targeting at No. 5

The Jags were laughingstocks as recently as this summer; now they're 60 minutes from an AFC...