Report: Packers plan to work out QB Matt Flynn
The Packers are reportedly going to be bring in a familiar face for a work out. With Aaron Rodgers injured, Green Bay plans to work out former Packer quarterback Matt Flynn.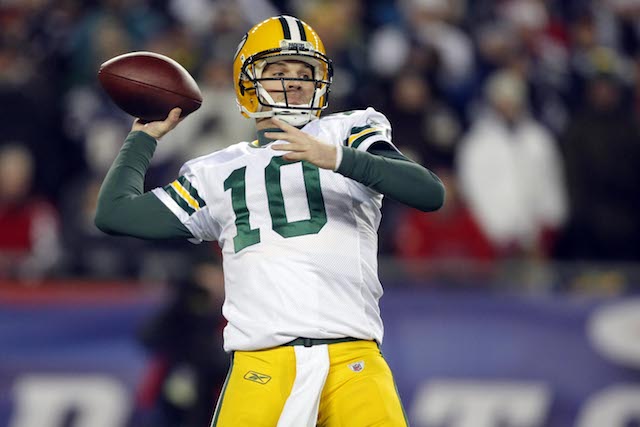 Matt Flynn made a name for himself in Green Bay and now, he might be going back to where it all started. The Packers plan to work Flynn out sometime in the near future, according to NFL.com. Flynn was drafted by the Packers in 2008 and spent four seasons backing up Aaron Rodgers before leaving in free agency after the 2011 season. 
Green Bay's quarterback situation went from great to 'Oh my goodness this is bad' in a span of one play on Monday night. Rodgers fractured his collarbone after being tackled from behind by Chicago's Shea McClellin. Rodger is now 'week-to-week,' according to Packers coach Mike McCarthy. 
Seneca Wallace is scheduled to start against Philadelphia on Sunday, with Scott Tolzien serving as his backup.   
As for Flynn, he hasn't had much success since leaving Green Bay. Flynn's been cut by both Buffalo and Oakland. The only reason the Raiders even had Flynn is because the Seahawks didn't want him anymore and sent him to Oakland in a trade. 
Flynn became became a hot name on the free agent market after he threw for 480 yards and six touchdowns for the Packers in a December 2011 win over the Lions. In the only other game Flynn started for the Packers, he threw for 251 yards and three touchdowns against the Patriots in 2010. 
Flynn parlayed his success with Green Bay into some major money. Between Oakland and Seattle, Flynn made a total of $14.5 million over two seasons for one start.
After a report emerged quoting Irving saying, 'I have made a call,' the Cowboy took to Twi...

Washington is banged-up heading into a divisional showdown with Philadelphia

Kenny Britt might be on the chopping block after his latest blunder
Sending money to help with hometown education isn't anything new for the NFL veteran

Here's every official injury designation for each NFL team for Week 7

Last year's Jets were a disaster, but this year's version has been extremely competitive