Report: Panthers revamp contracts of Davis, Kalil, Stewart
The Panthers are doing work to create as much salary cap room as possible.
• 1 min read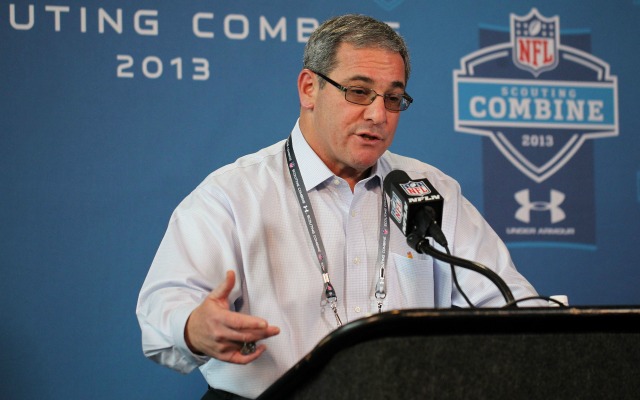 Already, the Panthers were well under the 2014 salary cap ceiling. But that hasn't stopped general manager Dave Gettleman from continuing to renegotiate his players' existing contracts.
According to the Charlotte Observer, the team has restructured the contracts of linebacker Thomas Davis, center Ryan Kalil and running back Jonathan Stewart to create $7.25 million of cap room. Joe Person writes that puts the team about $29 million under the cap and could signal the Panthers' willingness to sign defensive end Greg Hardy to a long-term deal or prepare themselves to franchise tag him.
The paper also wonders whether Carolina will try to get defensive end Charles Johnson, whose $16.4 million cap number is the team's largest heading into 2014, to renegotiate his deal in order to make more room. Kalil, at $10.4 million, had been the second-highest cap number.
Davis, whose contract has been modified four times (!) the past three years, was supposed to make a $2.75 million base salary, but he now will make the veteran's minimum of $950,000 with the rest converting to a signing bonus. Kalil's salary went from $4.75 million to $855,000. Stewart went from $1.5 million to $785,000.
Gettleman said it's something the team needed to focus on in the offseason.
"We're cap-challenged," Gettleman said last week at the NFL combine. "Last year, we were quite a bit over. We had to do some maneuvering to just get under for the first day of the league year. The progress we've made this year is we don't have to do any of that. But that doesn't mean we're sitting here with $35 million under the cap. So if you always go for the immediate, instant gratification, you're going to get burned.
"What we have to do is be very thoughtful in planning our cap, planning our strategy, planning our budget. What you're looking for is sustained success. That's what you want. You don't want to jump up, have a great year and for the next two years you're floundering around. There's only two teams in this league right now that have had winning seasons four years in a row -- New England and Green Bay, and Green Bay was 8-7-1 this year. That's what our goal is. Our organizational goal is to have sustained success. We have to be thoughtful about what we do with every player, every dollar."
CBS All Access allows viewers to stream every NFL on CBS game in their local market

CBS All Access allows viewers to stream every NFL on CBS game in their local market

Two NFC East divisional foes face off this weekend in a big battle for both teams
Owners and CEOs from several teams released statements in response to Trump's remarks in A...

Nick Kostos won big on Monday nights last season and gives his best 3-team NFL parlay for Week...

CBS All Access allows viewers to stream every NFL on CBS game in their local market