Report: Patriots asked Logan Mankins to take pay cut before trade
The Patriots' first option with Logan Mankins reportedly was to ask him to take less money for 2014.
• 1 min read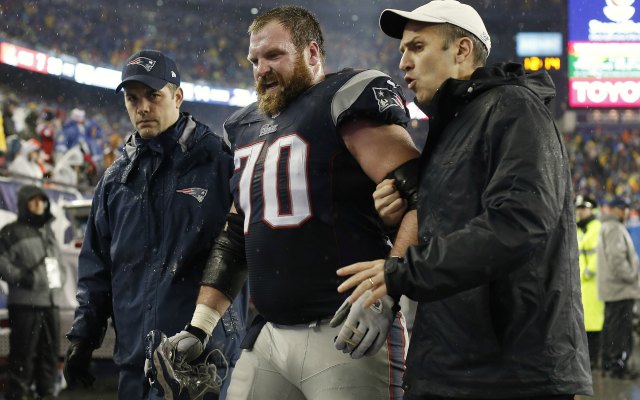 Before the Patriots sent guard Logan Mankins to the Buccaneers in exchange for tight end Tim Wright and a fourth-round pick in a massively-interesting trade Tuesday, New England reportedly tried to alleviate its salary cap concerns for Mankins on its own.
That's because the Patriots asked Mankins to take a pay cut from his 2014 base salary of $6.25 million.
Two sources said #Pats asked G Logan Mankins to take pay cut before trade. Initial request was right after Pro Bowl last season. He refused

— Jason Cole (@JasonPhilCole) August 27, 2014
Pretty nervy of New England to ask Mankins to take less after a Pro Bowl season, right? Yet that fits in with the Patriots philosophy of getting rid of or reducing the salary of its top players who are on the wrong side of 30 years old.
Either way, the news Tuesday made the team sad.
"Logan Mankins is everything we would ever want in a football player," coach Bill Belichick said. "It is hard to imagine a better player at his position, a tougher competitor or a person to represent our program. He is one of the all-time great Patriots and the best guard I ever coached. Logan brought a quiet but unmistakable presence and leadership that will be impossible to duplicate. Unfortunately, this is the time of year when difficult decisions have to be made -- and this is one of the most difficult we will ever make -- but like every other decision it was made for what we feel is in the best interests of the team."
Said cornerback Darrelle Revis after practice: "The atmosphere was a little down today about what happened today with Logan. But at the same time, you've gotta go out there and do our jobs. It's very sad. He's been here for a long time. I got a lot of respect for him from playing against him in the past. He's a class act, and that's how the business goes, and I wish him the best. I wish that we wouldn't even be talking about this at this point, but it is what it is."
It looks like we're going to have a quarterback competition in Jacksonville

Smith is facing up to seven years in prison if convicted

Plus everything else you need to know about Week 2 of the 2017 NFL preseason
This is why being a rookie in the NFL isn't fun

The Raiders running back went Beast Mode on reporters

Elway tried his best to emphasize how complicated the situation is