Report: Patriots don't expect TE Rob Gronkowski to play Sunday
Earlier in the week, it sounded like Patriots tight end Rob Gronkowski would play this week. Now, it sounds like he won't.
• 1 min read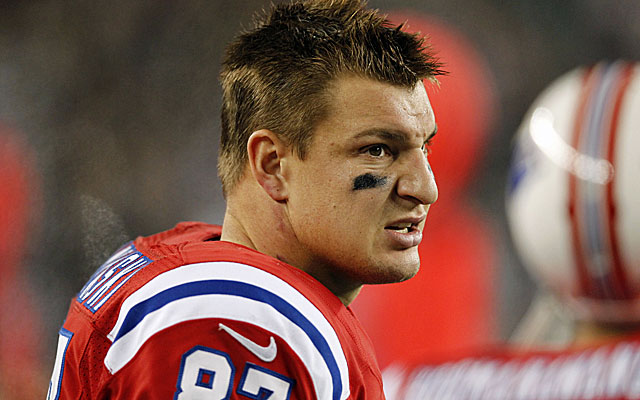 Despite a report earlier this week that said it was likely that Patriots tight end Rob Gronkowski would make his 2013 season debut Sunday, it reportedly won't happen now.
After another report surfaced Friday that said Gronkowski's forearm continues to have problems, the Patriots now don't expect him to play this week vs. the Saints, according to ESPN.
After it seemed like Gronkowski would play, WEEI.com reported that there were "serious concerns" about the integrity of the bone where the original forearm surgery had taken place along with the nerves surrounding it. WEEI.com said that though the forearm would have healed without surgery, the Patriots and Gronkowski tried to speed up his recovery by having it.
"The source indicated that if the bone had healed on its own without an implement, there might have been no infection," WEEI's Mike Petraglia reported. "However, there now are concerns that an abscess developed, causing infection and likely weakening the bone. This prompted three more surgeries in the offseason on the forearm, separate from the procedure on his back."
Said Gronkowski on Thursday: "It's basically nothing new. I mean, I'm just working hard every week, working hard out at practice, and nothing's changed, we're day by day, like we've been from the very beginning. ...
"I'm just doing whatever the coach asks me to do, out at the practice field with my teammates, [whatever] they ask me to do, just to help the team out to my max ability."
On the Patriots injury report released Friday, Gronkowski is listed as questionable with a back injury.
Cowboys rookie Jourdan Lewis got some good news on Tuesday.

The Ravens might need some help at running back

The Jaguars are making people rich
It looks like Michael Vick is hoping to make the transition from player to coach

The former undrafted free agent is about to get a huge raise

Both Malik Hooker and Andrew Luck are on the PUP list, so maybe it's time to start worryin...