Report: Patriots WR Aaron Dobson underwent surgery
Patriots receiver Aaron Dobson was bothered by a stress fracture in his foot last season, and he underwent surgery to fix it.
• 1 min read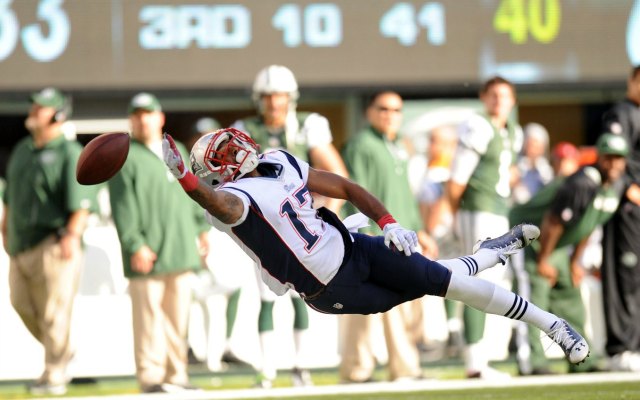 Playing without tight ends Rob Gronkowski, tight end Aaron Hernandez and receiver Danny Amendola for much of the early part of the 2013 season, Patriots quarterback Tom Brady was forced to toss plenty of passes to rookies Aaron Dobson and Kenbrell Thompkins.
Both had their good moments and both had some bad ones, but overall, Dobson -- selected in the second round of the 2013 draft -- performed decently enough, catching 37 passes for 519 yards and four touchdowns. But toward the end of the year, he was affected by a stress fracture in his foot that kept him out three weeks, and after he returned in Week 17, he re-aggravated the injury.
On Sunday, Dobson underwent surgery on his foot, according to the Boston Herald, and the early prognosis is that he'll be out for two to three months, meaning he'll likely miss the early part of New England's offseason workouts.
But here's a question: if he reinjured his foot in January and the team was done playing later that month, why did it take him so long to get the surgery, putting him behind schedule for his offseason training?
According to the paper, "The Patriots and Dobson hoped rest would heal the foot, which is why they waited so long for the procedure, and he hadn't been able to run to this point in the offseason because of that."
Plus the Eagles' formula for winning late, the AFC playoff mish mash and a budding young Vikings...

Here are the Week 11 grades for every team that played Sunday

The Eagles move to 9-1 after beating the Cowboys by four touchdowns
Peterman threw five interceptions in the first half before getting yanked

The Vikings' coach addresses the team's cloudy quarterback situation after their eighth win...

Green Bay could have brought in a veteran quarterback but decided to stick with Hundley