Report: Possible homicide at Arrowhead after Chiefs-Broncos
Police in Kansas City are investigating a homicide that took place at Arrowhead Stadium on Sunday after the Broncos beat the Chiefs.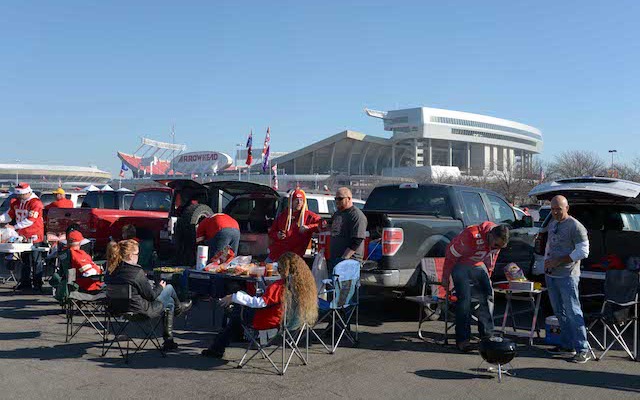 The Kansas City Police Department is investigating a possible homicide that took place outside of Arrowhead Stadium during Sunday's game between the Broncos and the Chiefs, according to Police Chief Darryl Forte. 
Authorities were called to a parking lot outside the northeast corner of the stadium around 6 p.m. ET. When officers arrived, they found emergency medical personnel working on a white male. The male, identified as 30-year-old Kyle Van Winkle, was taken to a local hosptial, where he later died. 
"At this time, we're not calling it a homicide, but we'll investigate it as one," KCPD public information officer Tye Grant told USA Today. 
Here are some more details from KCTV, the CBS-affiliate in Kansas City:
Police sources tell KCTV5 that a man and his son had gone to their vehicle during the game. When they arrived, they found another man rifling through the vehicle and a fight broke out. The man who apparently did not belong in the vehicle died.

Police officials did not say whether the two in custody were the father and his son or not.

Officers were called to the scene at 6:20 p.m. ET. The game started at 4:25 p.m. ET.
The father and son aren't officially suspects, according to Dye. "I'm not calling them suspects at this point," Dye said. "I'm not sure what involvement they may have had in anything."
Dye did confirm that the deceased male was found in a vehicle that wasn't his. Authorities still aren't sure how the man died, detectives are now awaiting toxicology results, which could take 4-6 weeks. 
The three 'persons on interest' in the case were all released from police custody after being questioned by authorities, according to NFL.com. 
Although it's not clear what the cause of death was yet, MMQB.com's Robert Klemko reports that the man who died wasn't shot or stabbed. Klemko also tweeted out a picture of the vehicle where the altercation took place. 
Here is the car in which the struggle happened; pic.twitter.com/aov1zI7njL

— Robert Klemko (@RobertKlemko) December 2, 2013
Rep. Al Green of Texas says Trump's comments on NFL players go too far

While Luck could return to the practice field this week, there's still no timetable on when...

A local fire chief is feeling the heat after calling the Steelers coach a horrible word
Public Enemy No. 1 in Kansas City gives the Chiefs some respect after a wild Week 3 shakes...

The president was also pleased the Cowboys stood for the national anthem

Wondering which NFL teams are going to win in Week 4? You've come to the right place to find...