Report: Raiders getting closer to stadium deal in Oakland
The Raiders might be staying in Oakland after all. The city has put together a proposal that would keep the team in Oakland and give the Raiders the new stadium they want.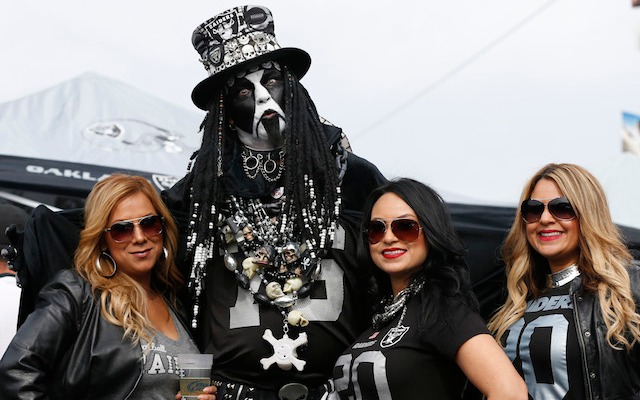 The Raiders don't have a stadium deal in Oakland yet, but apparently they're getting close. According to the San Francisco Chronicle, the development team for the Oakland mayor's office has worked out a deal that would give the Raiders free land in Oakland to build the stadium on. 
Under the proposed deal, taxpayers would be on the hook for $120 million. However, that money wouldn't go towards the new stadium; it would go toward paying off money still owed on O.co Coliseum, where the Raiders and baseball's Athletics currently play.
Taxpayers wouldn't be paying for any part of the actual stadium, which will cost somewhere between $900 million and $1.2 billion.
However, not all the 'i's and lower-case 'j's have been dotted in this deal yet. As of right now, it's not clear how the financially strapped city of Oakland would raise the $120 million.
"That's a great question that we will probably not say anything about," a spokesman for the Mayor's office told the Chronicle on Tuesday.
So that seems to be an issue. There could also be an issue with the Athletics.
The A's recently signed a 10-year lease in Oakland and a new stadium for the Raiders could potentially involve the city needing to tear down O.co., where the A's currently play. Obviously, the A's would need a place to play if their stadium is torn down. 
Then there's also the issue of Raiders owner Mark Davis, who would have to sign off on any deal. Back in July, Davis visited San Antonio. The Raiders owner is also believed to have one eye looking toward Los Angeles. 
However, Davis has repeatedly said he wants to keep the team in Oakland. Although Davis did say in February that the city was on its 'last chance' to keep the Raiders. 
The Raiders lease at O.co expires after the 2014 season, at which point the team is free to move wherever it can find the best deal. 
The Saints coach wasn't in the mood to answer questions about Drew Brees on Tuesday

This is footage that you'll definitely want to see

It wasn't the matchup that we expected, but the Jaguars would argue that's everyone else's...
The Eagles quarterback and the Vikings quarterback have paths that have crossed many times

The Bengals quarterback gives his side of one of the craziest stories of the NFL season

There are many confusing issues when it comes to Ben Roethlisberger's future