The NFL's billion-dollar game of musical chairs ended on Tuesday with the Raiders left as the odd team out.
In a 30-2 vote, the league's 32 owners approved the Rams' relocation bid to Los Angeles. The group also gave the Chargers the option of moving to L.A. And then there's the Raiders, who basically went home empty-handed.
The Raiders' future is so unclear right now that they don't even know where they're going to be playing when the 2016 NFL season kicks off in eight months.
The team could be in Oakland; however, don't rule out the possibility of San Antonio. According to Bleacher Report's Jason Cole, Raiders owner Mark Davis owns a parcel of land in-between San Antonio and Austin, Texas, where he could eventually build a stadium.
A Raiders move wouldn't be a complete shock, because when Davis spoke after the owners meeting on Tuesday, he was non-committal about staying in Oakland.
"We don't have a lease right now at the Oakland Coliseum," Davis said. "America, the world is a possibility for the Raider Nation."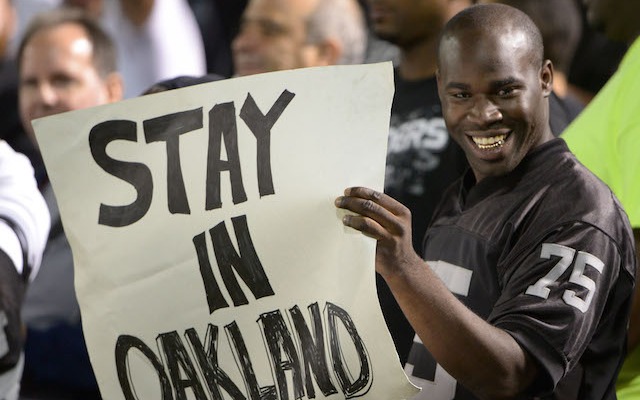 Getting a stadium built in San Antonio wouldn't be impossible either, because Davis has the backing of 88-year-old billionaire Red McCombs. During an interview with ESPN Radio in San Antonio on Thursday, the former Vikings and Spurs owner made it clear that if Davis brings his team to Texas, he'll get some serious financial backing from McCombs and his friends.
"We would be happy to be investors if that what he wants," McCombs said. "We have investors lined up if that what he wants. If he wants to keep it all to himself, that's OK too."
McCombs played an instrumental part in getting the Spurs to move to San Antonio in the early 1970s, and he wants to do the same for the Raiders.
"We already have 12 of the corporate entities nailed down and ready with serious commitments," McCombs said. "We proved it with the Spurs. They said it wouldn't work at all, and it just happens to be the best franchise now in all of sports."
The billionaire seems optimistic about the chances of San Antonio landing the Raiders.
"What happened in Houston was absolutely the greatest thing that could happen to us short of getting somebody committed to come in here, because that cleared the runway to where now he can make his decision and go anywhere he wants to," McCombs said.
McCombs also added that he spoke with Davis on Tuesday after the owners' vote left the Raiders out in the cold.
If the Raiders were to move to Texas, they'd have a place to play immediately. San Antonio mayor Ivy Taylor said in August that the Alamodome could potentially be ready to host an NFL team for the 2016 season.
"We would be open to that," Taylor said. "We are already making improvements over there for the (2018) Final Four, so we would be open to that."
Even if Davis doesn't move to San Antonio, at the very least, he now has leverage in his negotiations with Oakland.
On the other hand, if Davis does want to move to San Antonio, it won't be easy, because all of the NFL's relocation guidelines would still stand. Davis would need 24 of the NFL's 32 owners to approve a relocation, and he'd likely have two "no" votes in Texans owner Bob McNair and Cowboys owner Jerry Jones.
However, the Raiders might be able to manage a pity "yes" vote from Jones because the Cowboys owner pushed hard for the Rams-Chargers L.A. plan, which left the Raiders as the odd team out.
Other obstacles that could hinder a possible move to Texas include money and time.
According to CSN Bay Area, the Raiders could be hit with a relocation fee if they decide to move, although the NFL hasn't come to a final decision on that. However, with McCombs' backing, a relocation fee might not be an issue for the Raiders.
Another issue is time. As of right now, the NFL's relocation window is only open thru Feb. 15. That means the Raiders would have to put a plan together and get it approved in the next four weeks. According to the Bay Area News Group, the Raiders would also need to file a new relocation application because the one filed for L.A. is "non-transferrable."
The other issue for the Raiders is that they don't know what the Chargers will do.
The Chargers have until March 23 to decide if they're going to play the 2016 season in San Diego or Los Angeles. If they decide to stay in San Diego, the Chargers would then have until January 2017 to make a final decision on a possible relocation to L.A.
If the Chargers haven't made a decision by January 2017, then the Raiders would be given the option to move to L.A., and you can bet Davis would jump at that. On the other hand, if the Chargers move to L.A. and the city of San Diego is willing to build a stadium to woo a new team, you have to think that Davis would also be interested in that.
With only four weeks to get a possible relocation plan together for this year, it's hard to envision the Raiders playing anywhere but Oakland in 2016. However, after that, it's all up in the air, and it wouldn't be surprising at all to see the Raiders move to San Antonio, San Diego or even St. Louis.