Report: Raiders not interested in extension on Oakland stadium deal
If you want another sign the Raiders are trying to leave Oakland, this might be one of them.
• 1 min read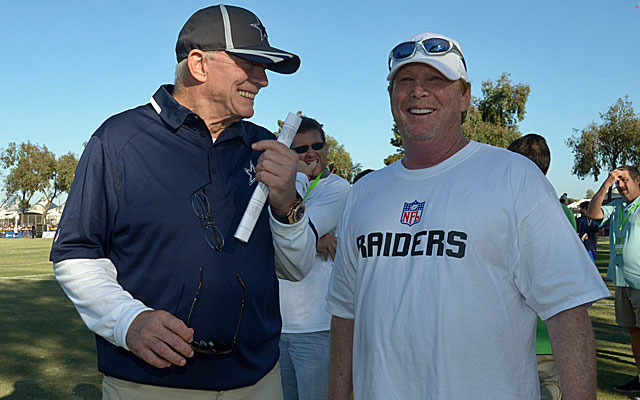 More NFL: Photos |  Videos & GIFs |  Training Camp updates | Manziel
With Magic Johnson saying Los Angeles could have an NFL team in two years and with the former Lakers star actively trying to recruit Raiders owner Mark Davis, the fans in Oakland might be getting a little worried about the franchise's long-term plans for northern California.
Especially since it seems Davis also is getting cozy with the people in San Antonio and is taking counsel from Cowboys owner Jerry Jones -- who would love a Raiders move to anywhere but Texas.
More bad news on Wednesday.
Mark Davis has not asked, and doesn't plan to ask for a one-year extension on Oakland Coliseum deal. #Raiders

— Vic Tafur (@VicTafur) August 13, 2014
According to the San Francisco Chronicle, there has been no progress made between the organization and the city on how to proceed in their relationship. The team's lease with the Coliseum expired after the 2013 season, and though a one-year extension was signed to keep the team in the stadium for 2014, it sounds like Davis doesn't want to repeat that move.
Thus, he's been talking to San Antonio officials.
"It was a serious conversation," Davis told the Chronicle. "I don't waste my time just having meetings. But we continue to try to get something done in Oakland."
Meanwhile, San Antonio apparently has been going hard trying to lure the Raiders.
As the Chronicle writes, though, "A move still is considered a long shot by those with knowledge of the matter, but [San Antonio] appears to have presented itself as a superior landing spot should the team decide to relocate. Strong relationships between Davis and San Antonio civic leaders could help spur a deal."
But if it doesn't work out, Raiders fans shouldn't feel completely relieved. Because, at this point, it seems as if Davis is interested in leaving Oakland once again. 
The former Buccaneers kicker did not have things start well for him in Chicago

Bears special teams showed up in a big way against Arizona

Beast Mode got loose with Oakland and looked pretty impressive in the early going
Beast Mode was one of several players to sit during the Raiders-Rams game

The cleaning staff in Houston missed a couple of things while cleaning up after Super Bowl...

Marvin Jones had some serious fun in the end zone after scoring against the Jets