Report: Rams won't be interested in acquiring RB Chris Johnson
Running back Chris Johnson, who was released by Tennessee on Friday, probably won't have a reunion with Jeff Fisher.
• 2 min read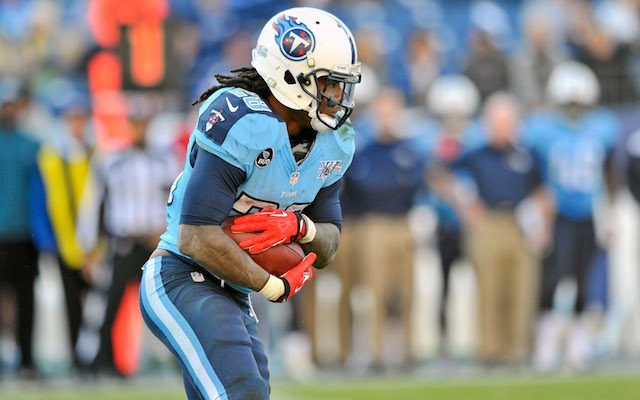 More NFL offseason: Mock Drafts | Prospect Rankings | Pro Days | Top free agents
With Tennessee releasing running back Chris Johnson on Friday, CBSSports.com's Will Brinson speculated on where Johnson -- who has never rushed for less than 1,000 yards in a season -- would land for his new job.
Though the Jets seems like a pretty good bet (even if New York reportedly hadn't reached out to Johnson by Saturday), Brinson also speculated that a reunion with former head coach Jeff Fisher with the Rams wouldn't be out of the question.
Writes Brinson: "The Jeff Fisher connection is really the only reason to keep St. Louis on here. Fisher obviously loved Johnson coming out and Johnson had great success under his old coach. The Rams have invested in the offensive line recently (and are likely to do so in the coming draft) so they should have a strong running game in 2014. Unfortunately for Johnson, it's as strong as it is because of Zac Stacy."
And knowing that, the St. Louis Post Dispatch writes that a reunion between Johnson and Fisher doesn't seem likely.
While Fisher hasn't been shy about bringing his old players from Tennessee and making them a part of the Rams organization -- guys like cornerback Cortland Finnegan, linebacker Will Witherspoon and tight end Jared Cook -- according to the paper, "there doesn't seem to be much if any interest in Johnson at Rams Park."
There's likely a couple reasons for that. 1) Stacy had a solid rookie season, rushing for 973 yards and seven touchdowns in 14 games. If Stacy is the running back of the future in St. Louis (or, at least, the running back of the present), why bother bringing in Johnson, because ... 2) Johnson likely wouldn't have an interest in either being a backup or not being the No. 1 running back. 3) Johnson likely would command much more money than the Rams would want to pay, especially since the team only will have to pay Stacy a $495,000 base salary in 2014 (and $585,000 in 2015 and $675,000 in 2016).
Plus, Fisher said this about Stacy recently (knowing that though Johnson was still with the Titans at time, it was only a matter of days before the organization released him), "I think over time, he'll probably be that 70-percent of the carries guy."
That was once Johnson's job under Fisher in Tennessee. But it appears those days between Fisher and Johnson have been left behind for good.
All of the best highlights from Week 11 are right here

What goes up, must come down in the hands of Larry Fitz

Maybe it's time to take this play out of the playbook
Tom Brady might be in the doghouse when he gets back from Mexico

Perriman was supposed to help fix the Ravens' offense; instead, he's become part of the pr...

R.J. White has his finger on the pulse of the Cowboys and made a strong play for Sunday Night...